Depending on how you feel about flying, getting on a plane can either be an exciting or terrifying experience. Recently, TikTok user and tattoo artist Asher, a.k.a @luckyboytattoos decided to share their experience adding another exciting (or terrifying) element to their flight: A tattoo.
In a TikTok video that's been viewed more than 4 million times, Asher — who has worked as a tattoo artist for almost six years — explains how on a recent flight, he and his seatmate started talking. Soon, his seatmate revealed they were looking to get a tattoo on their trip — but felt stressed about finding a good place to do so.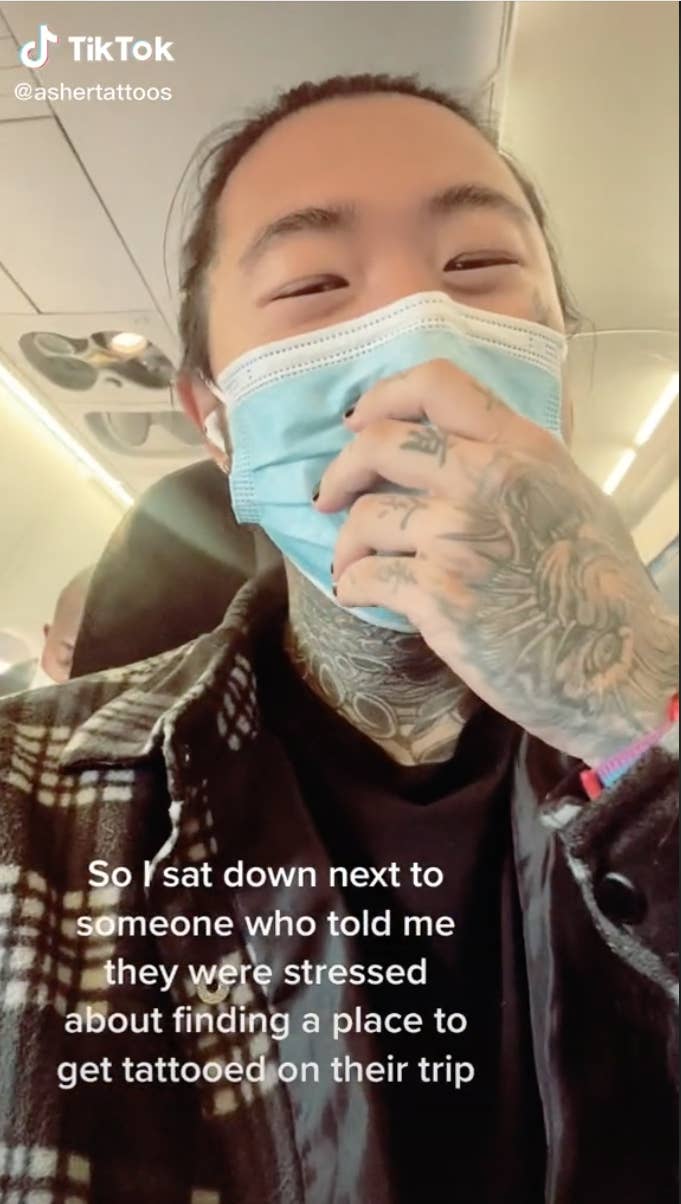 After chatting some more, Asher offered to give his seatmate a tattoo right there on the plane, and they agreed. Cut to: tattooing right over the tray table.
Asher explains that they followed all safety protocols, and even asked the flight attendants for permission before agreeing.
Here's the finished product: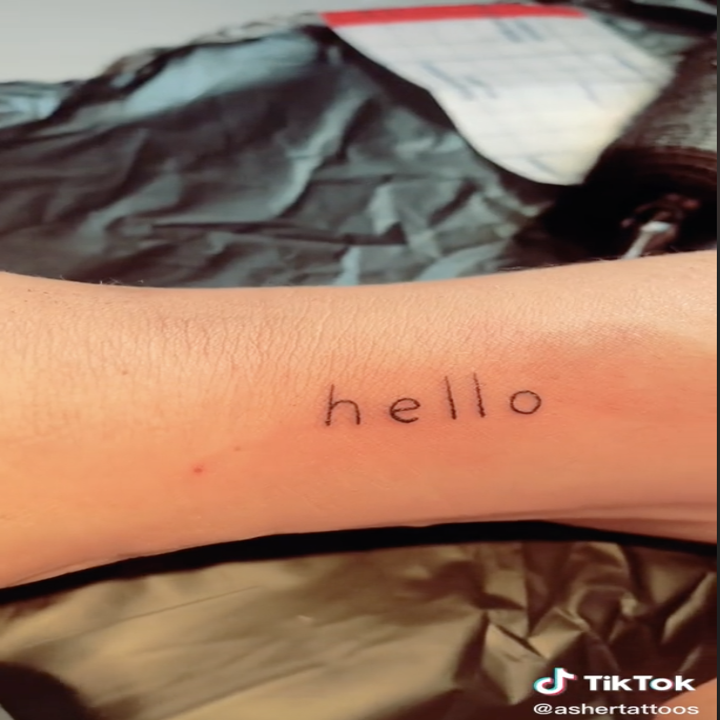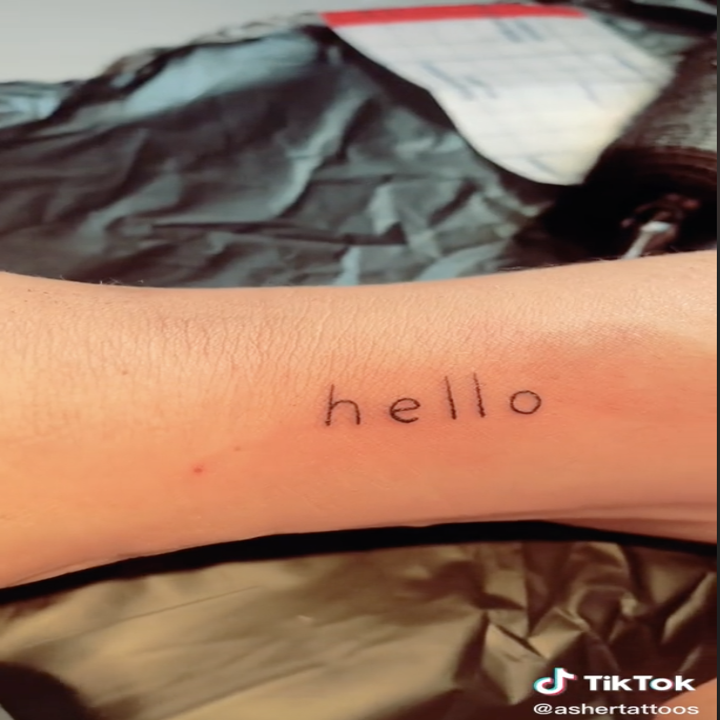 Currently, Asher's video has 764.7K likes, and an active comment section:
I spoke with Asher for more of the backstory. He explained that his seatmate originally struck up a conversation with him by complimenting his tattoos. Asher then said that the seatmate told him she was looking to get a fairly simple tattoo on her trip once she landed, but wasn't sure where to go. Asher added that when he offered to tattoo his seatmate, he originally meant it as a joke.
"She seemed a little bit stressed about being able to find a shop and getting in, so at first I jokingly brought up that I had all of my tattoo equipment with me," Asher told BuzzFeed. "At first, it was just a casual suggestion but as we continued talking, it seemed like she was very eager and comfortable with that experience and she seemed to be looking for adventure on the trip."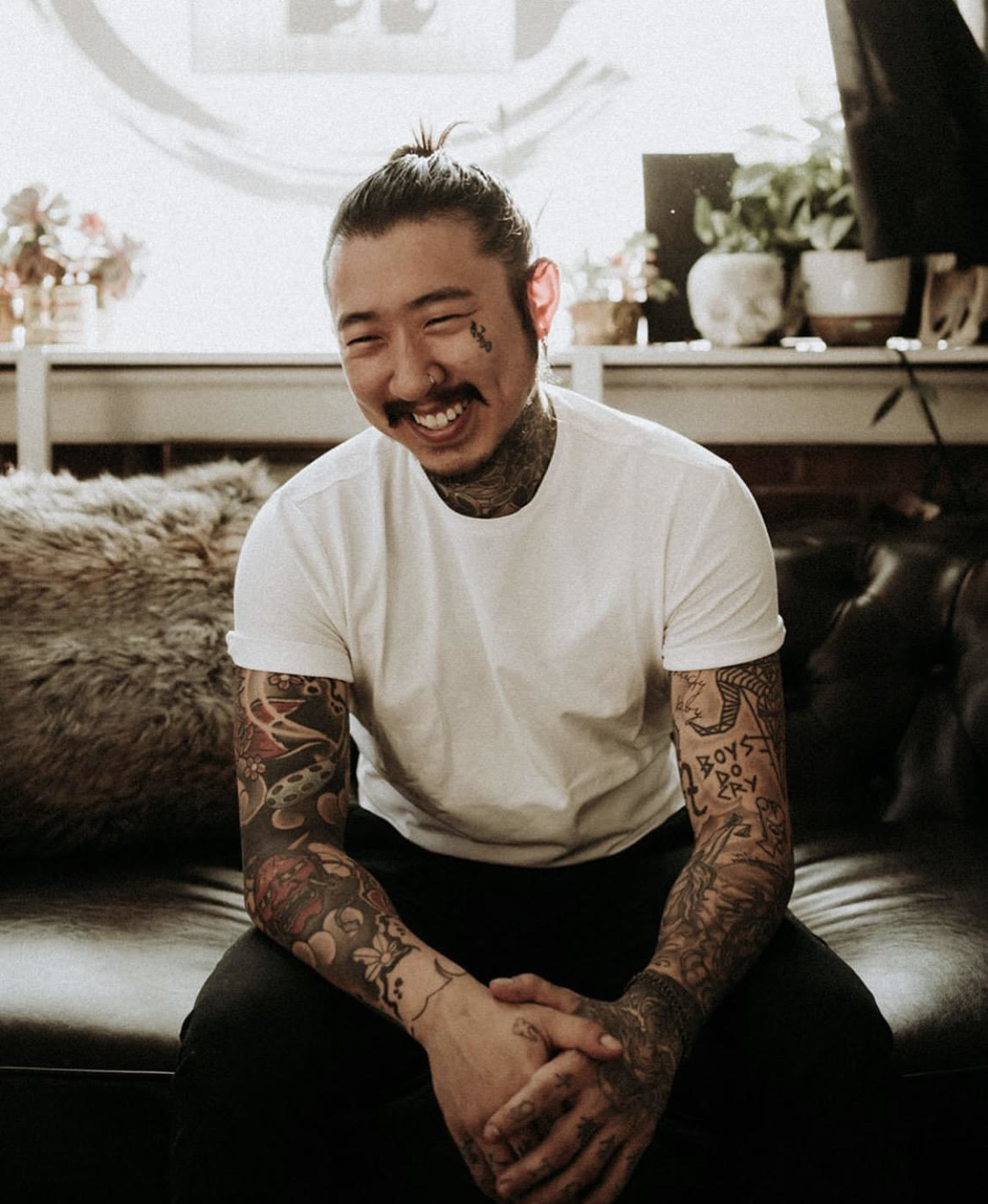 Moreover, Asher added that the spontaneous nature of the tattoo was actually part of the appeal. He said, "I did tell her that [the tattoo outline] was not gonna be stenciled but she was very open to the idea of the tattoo having character. We even talked about bumps and turbulence." Asher said that their seatmate was thrilled with the final tattoo, and the two became friends and kept in touch after the flight, as his seatmate sent him photos and videos from her trip.
Asher added that because the wireless tattoo machine they used in the video was incredibly quiet, no one else on the flight even realized that someone was receiving a tattoo on the plane. As the passengers began disembarking at the end of the flight, Asher said that one of the flight attendants they had previously gotten permission from actually asked if they had gone through with it.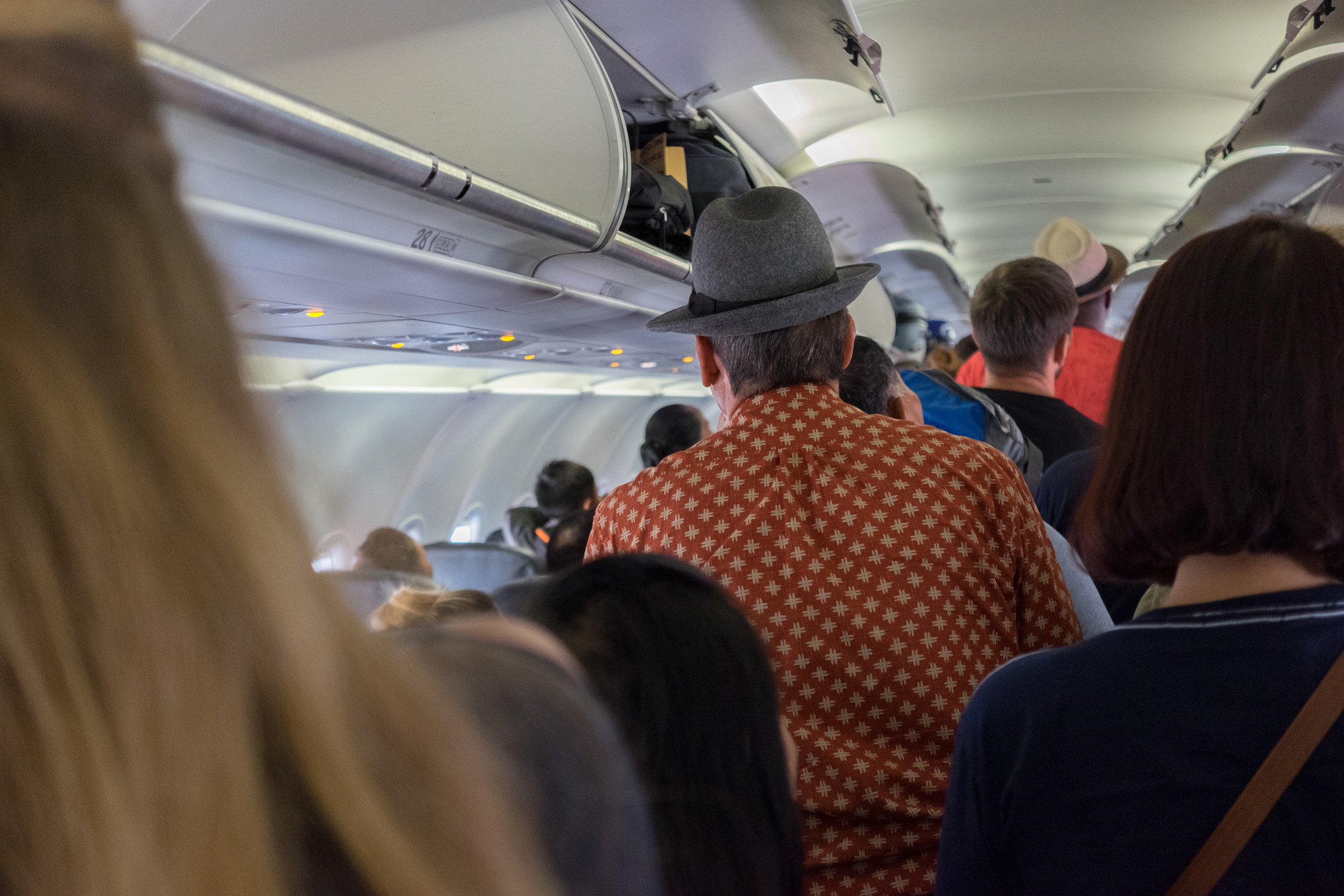 Asher was surprised by the attention the video received on TikTok and added that the response seemed to be a bit divided. He said, "There's definitely mixed reactions [of] a lot of people expressing how interesting and cool it was — but also a lot of people shutting down the idea and saying that it is unsanitary." Asher explained that he understood where these comments were coming from, though the decision to get tattooed ultimately rests with the client. He said, "At the end of the day, I understand it's not the most sanitary place to be doing tattoos — but we chatted about consent, risks, understanding and trusting each other first."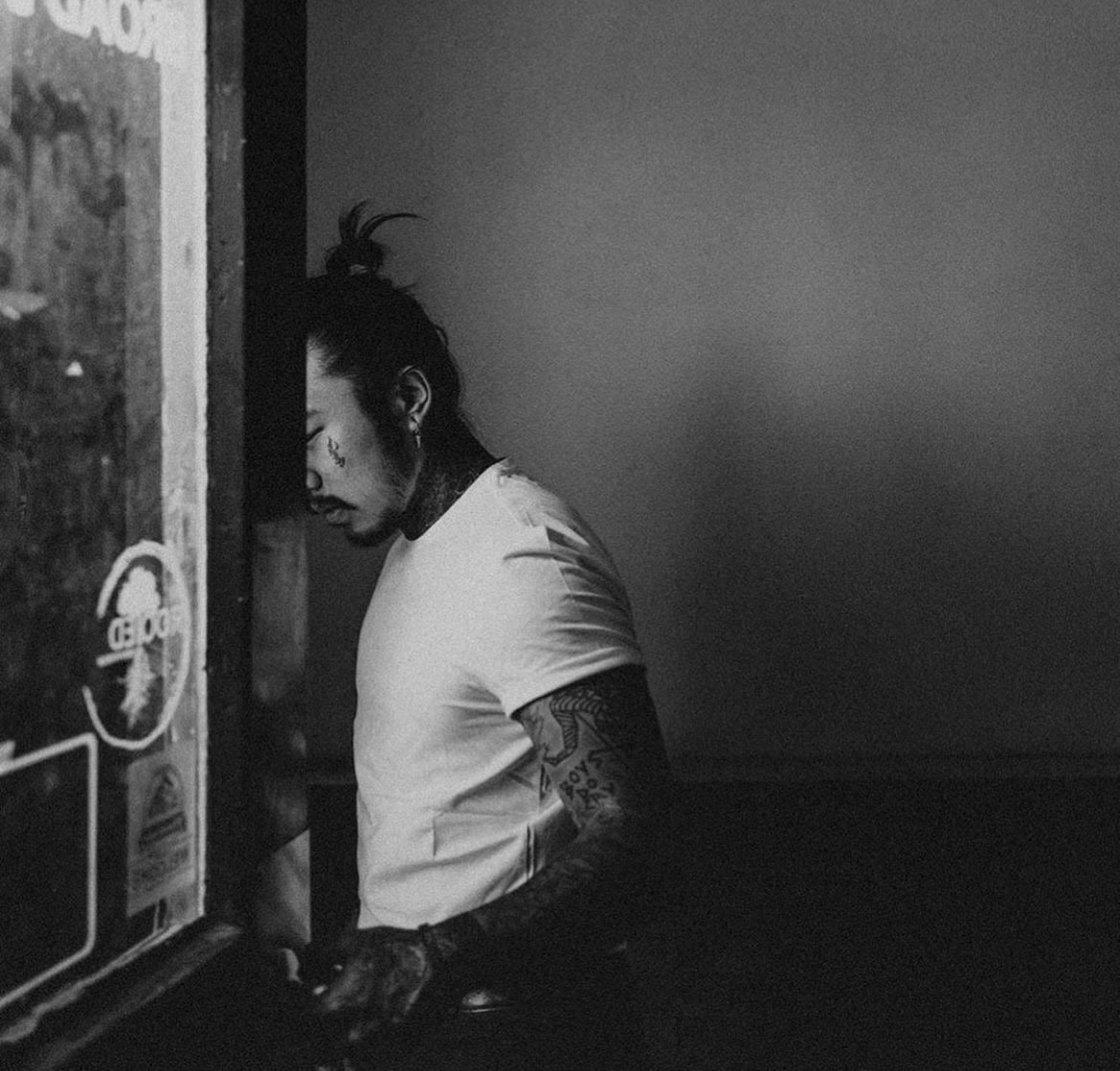 Ultimately, Asher concluded: "To me, getting a tattoo is such an amazing way of memorializing a mindset. In this case, adventure, openness, and saying hello to new experiences. It's so powerful to take a piece of this version of yourself with you, to carry and remember."
For more, you can follow Asher on TikTok.