Internet, if you haven't already seen their viral wedding videos (which amassed millions of views), then allow me to introduce you to newlyweds AJ Gibson (left) and Emile Ennis Jr. (right).
Both AJ and Emile are podcasters and TV personalities, so their wedding was bound to be full of personality — which is no surprise considering their origin. About 10 years ago, their younger selves met while filming an after-show for America's Got Talent, when Emile charmingly referred to his cohosts as "lovely," which AJ joked about and ran with.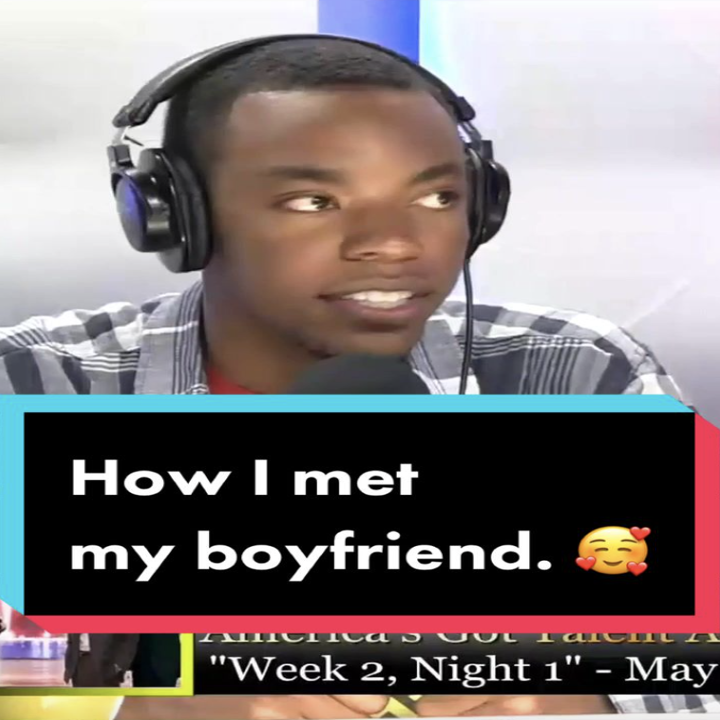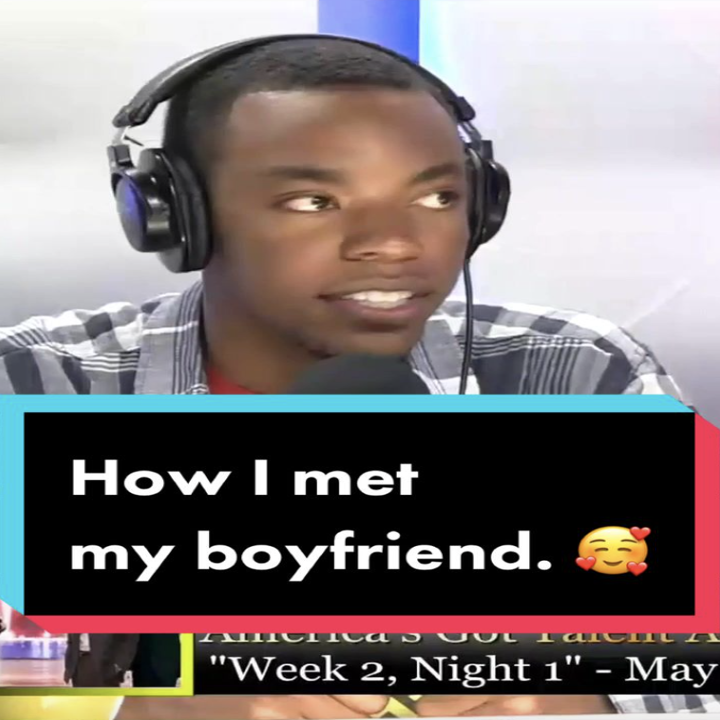 Now, the couple's destination wedding in Mexico has sent social media into a tailspin, and it's all because of their suits.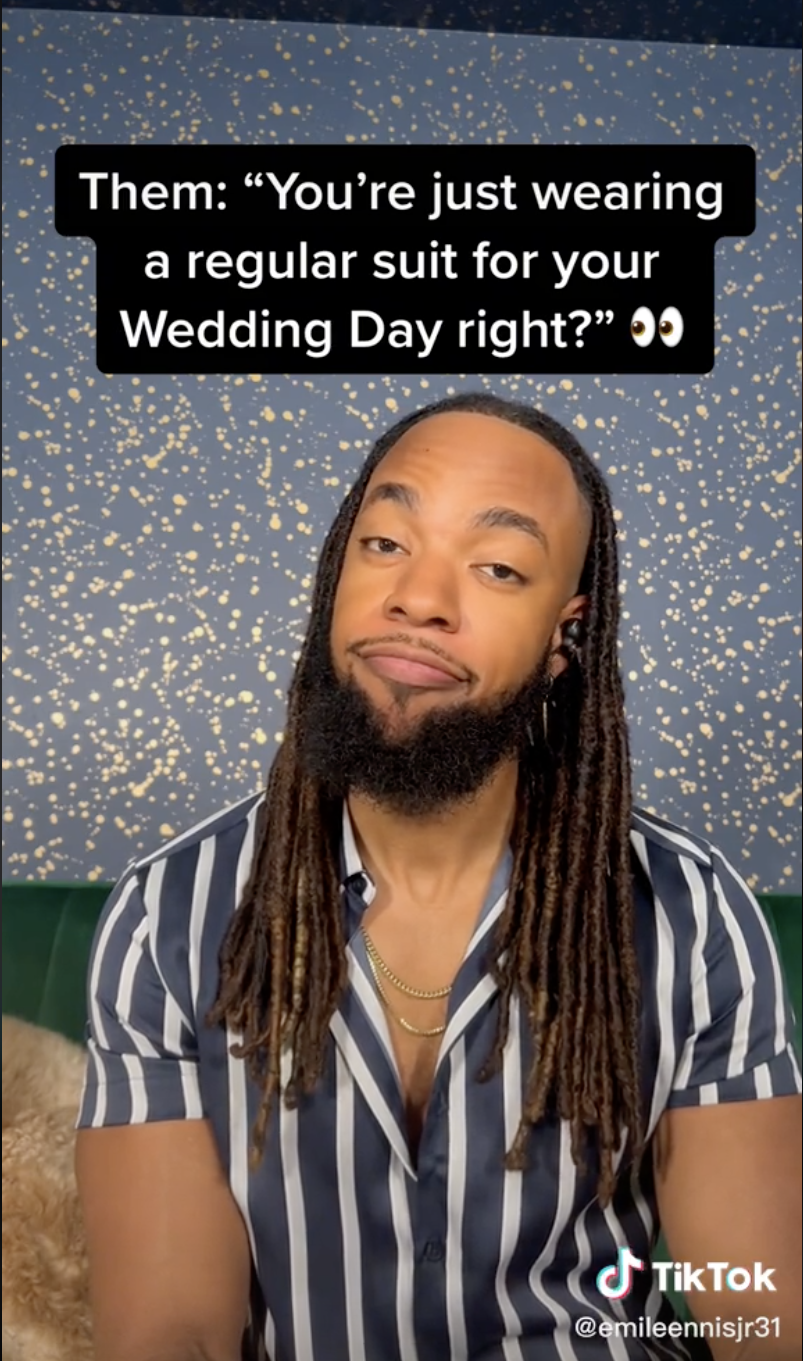 Both grooms stunned in navy suits with a ✨twist✨. For AJ, he opted for a more classic suit and bowtie combo that easily complemented his salt-and-pepper hair.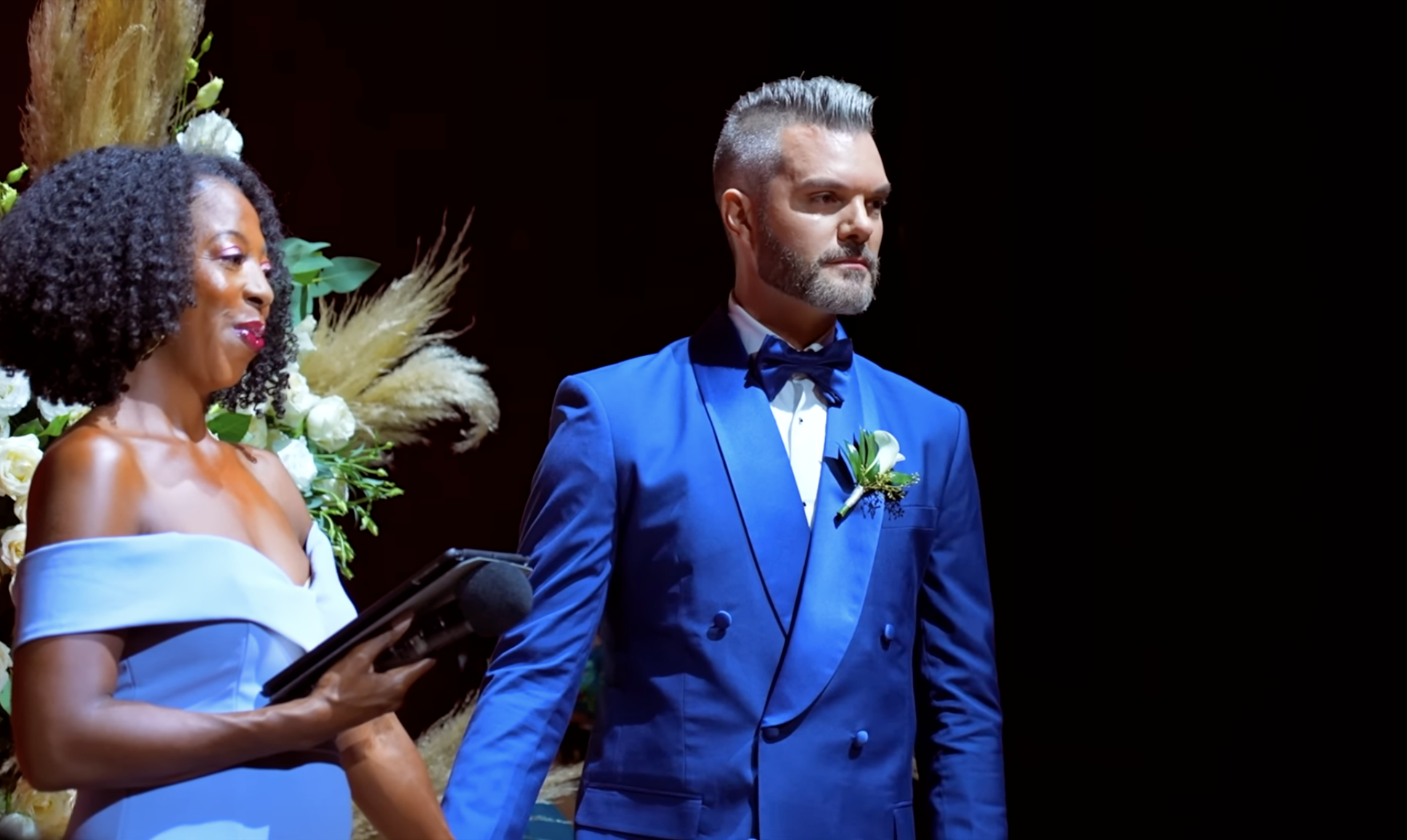 Here's a full look of the lewk: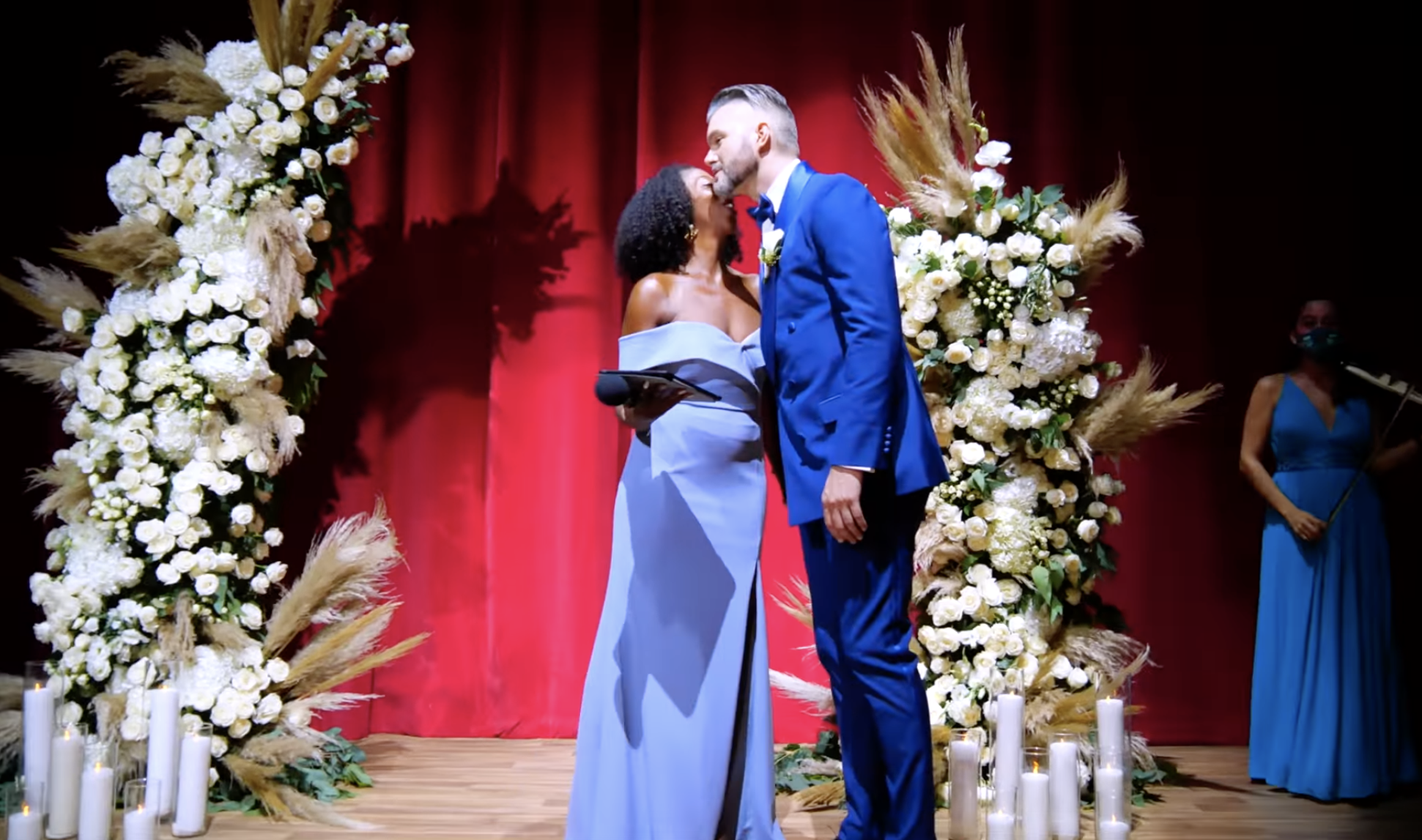 And Emile? Well, he's the self-described "extra" half of the duo, so he popped out in a tux with a floor-length cape.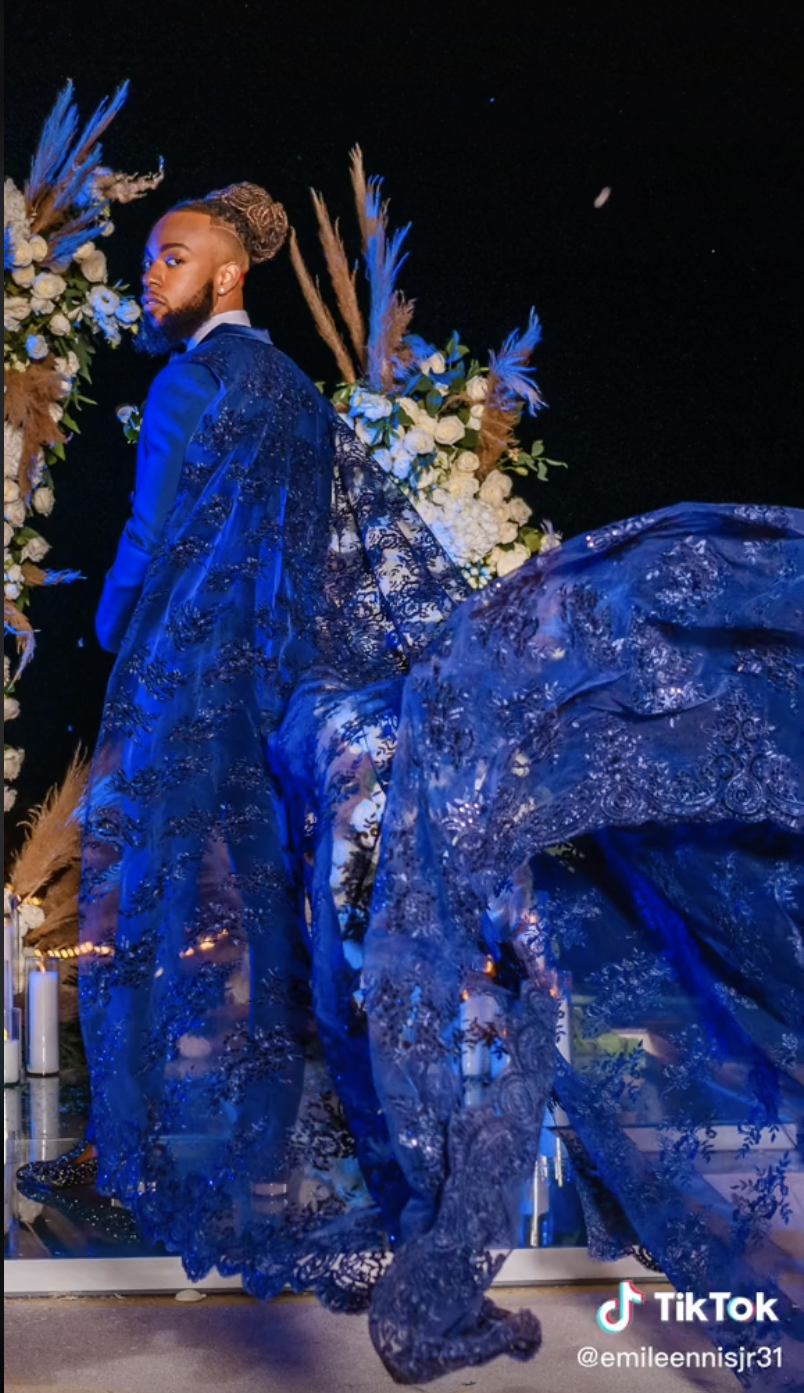 And because I know you're wondering, this was AJ's equally iconic reaction: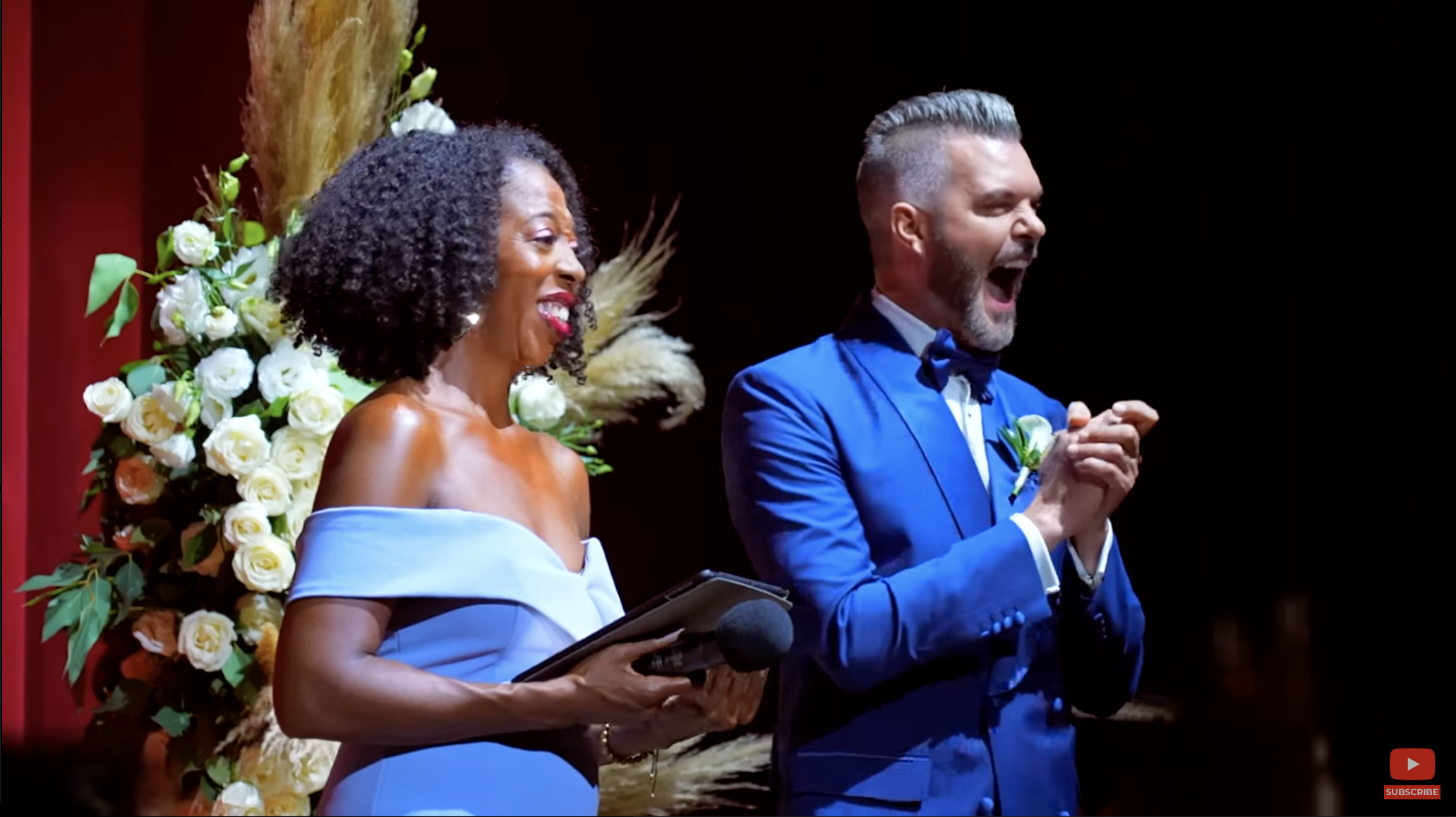 After the grand reveal, people online flooded Emile's comment section with praise.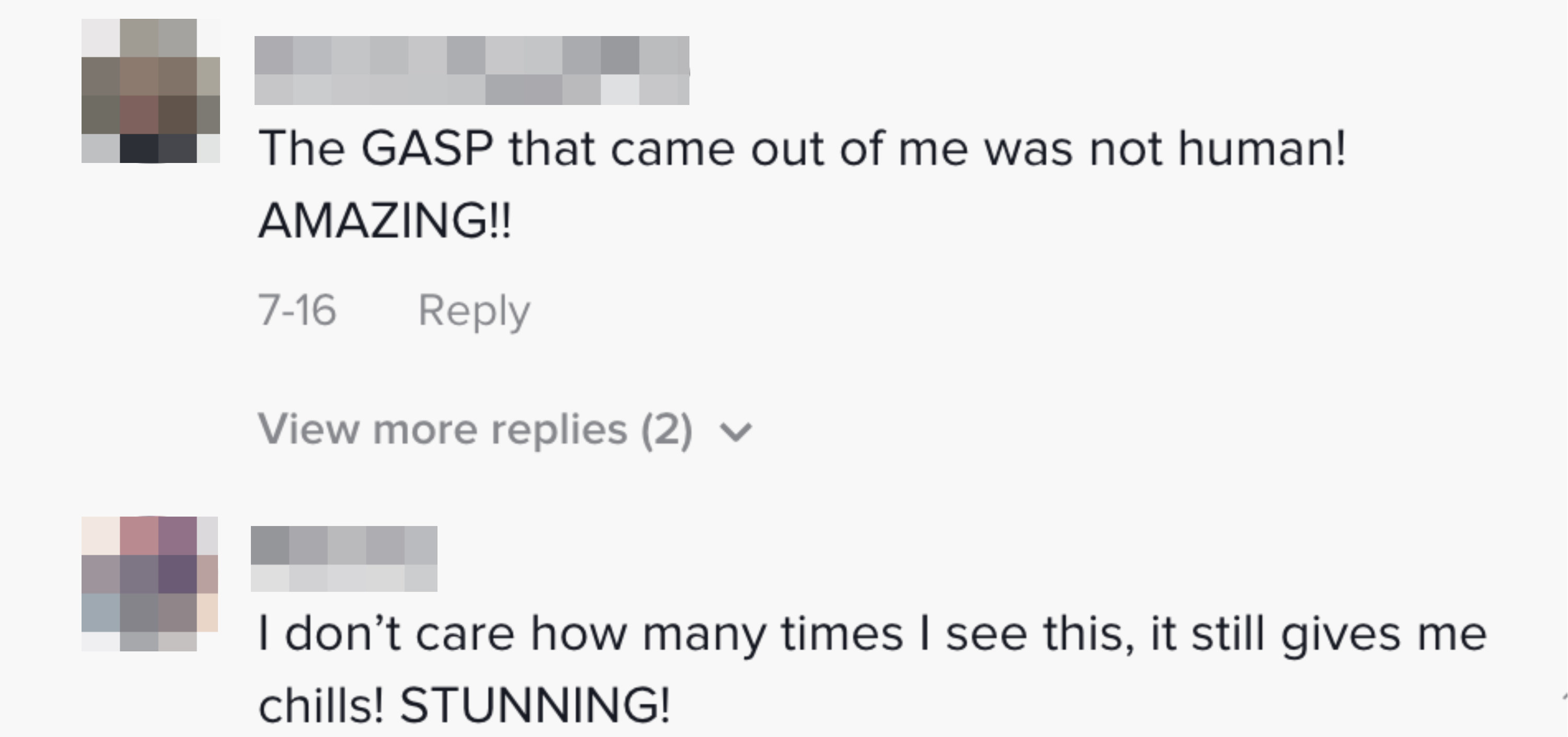 To learn more about their ceremony and process behind the custom looks, BuzzFeed reached out to Emile, who explained that their designer, BJ Gray, was told to create coordinating suits with his sole request being the cape/train/veil combo. "I love the mixture of masculine and feminine," Emile said. "A bride normally wears a veil, but I still wanted that experience as a groom. I knew I would be walking down the aisle second to AJ and I wanted to create a 'moment' for both my future husband, our guests, and myself."
And create a moment it did! "My jaw about hit the floor and the tears started flowing, because I was just so proud to see this full grown man walking towards me in THAT look and with the confidence of a KING," AJ shared while thinking back on the moment. "The Emile that I fell in love with 10 years ago would not have had the courage to even attempt that look, but the man I married that day OWNED that walk down the aisle."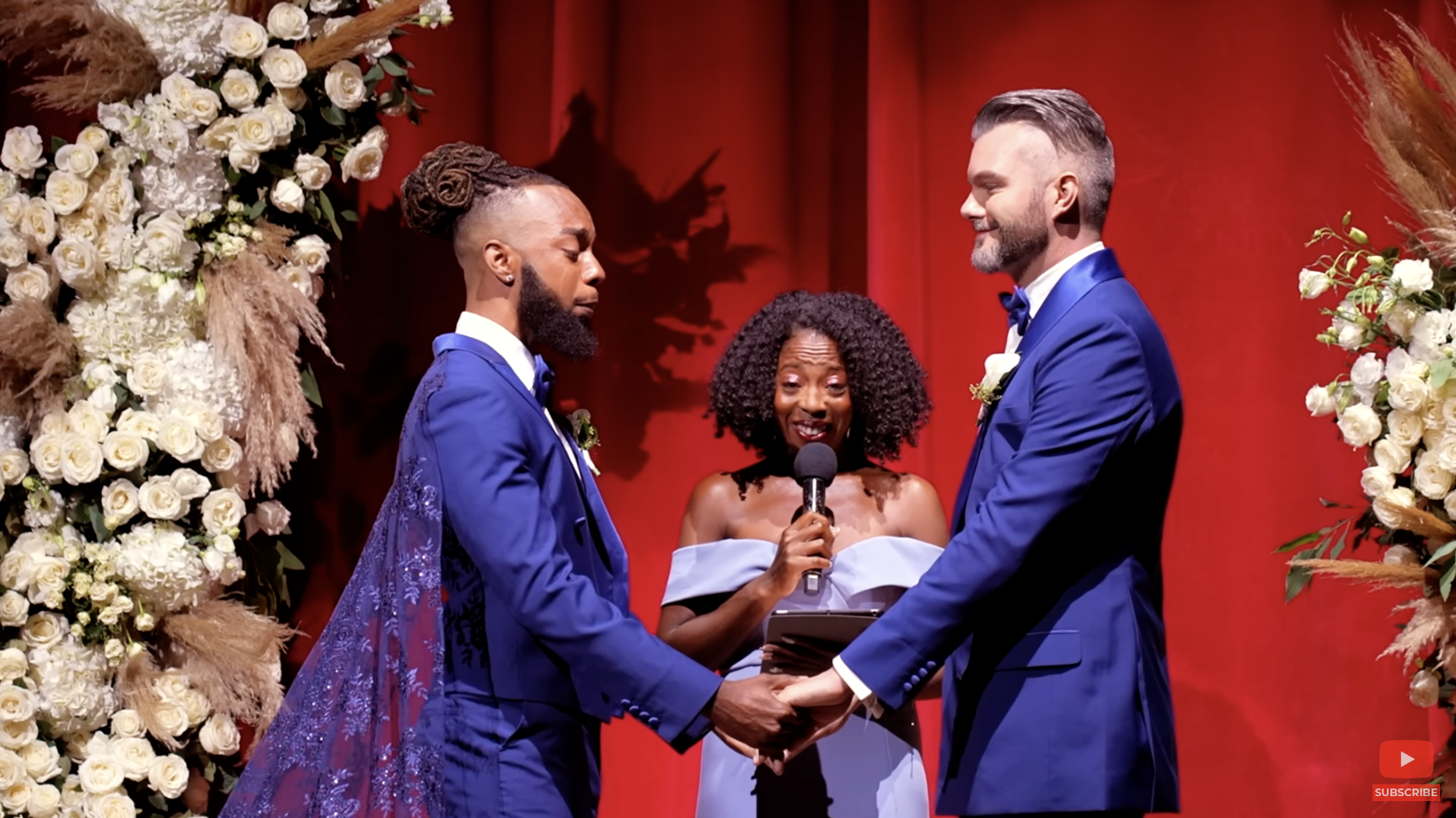 "As queer people, it's not always easy to live in your truth. The outside world thinks they have the right to tell us how to act, dress, talk, [and] live, [but] Emile pushed all that aside and walked down that aisle EXACTLY as he chose to and there's nothing sexier in the world than that," AJ continued. "There were audible gasps and cheers throughout the venue. I've never seen anything like it!"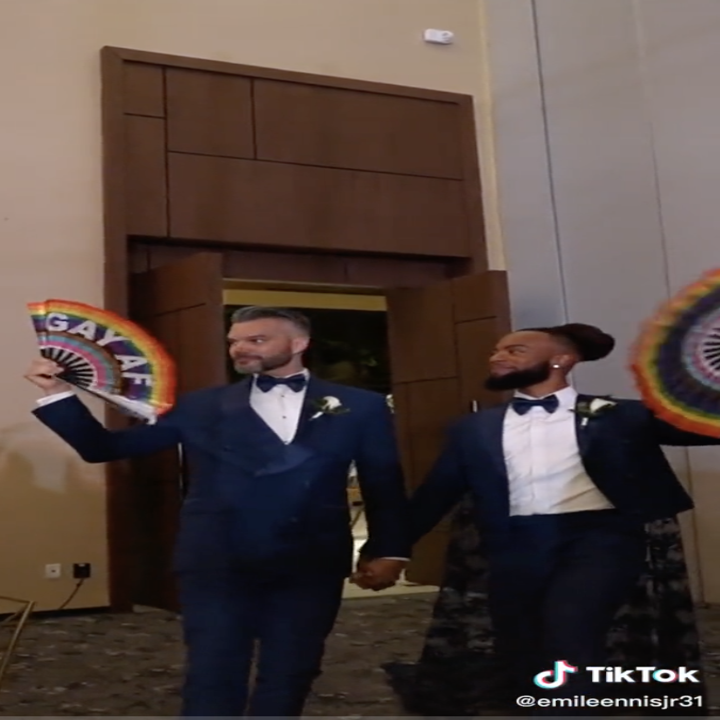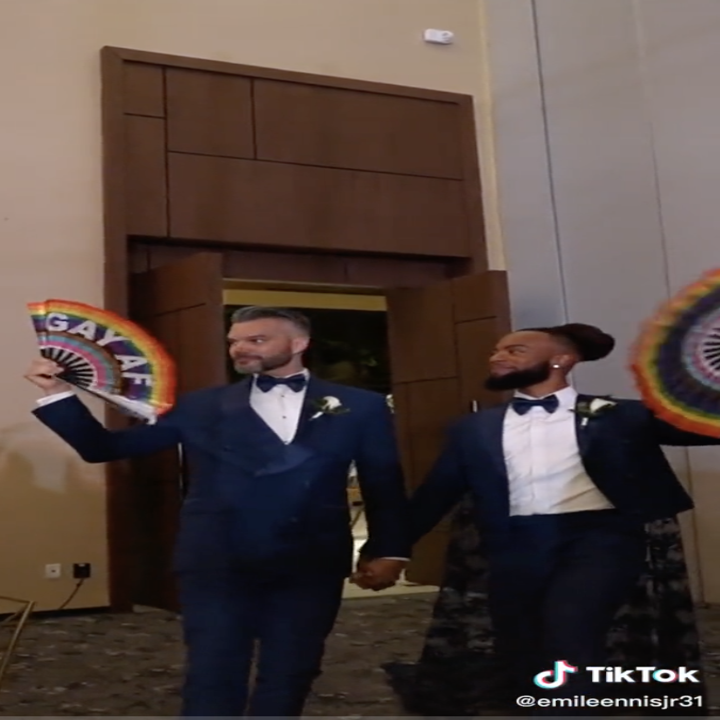 Emile seconded this desire for the couple to live in their truth on their big day. To cement the same emotion throughout the venue, they chose the quote "The greatest thing you'll ever learn is just to love and be loved in return" from Moulin Rouge, and placed the words on each guest's table setting "as a reminder that LOVE is the only thing that matters," Emile said. "Many of our guests were attending their first same-sex wedding, so we wanted them to feel connected and a part of our love, without it feeling preachy, so that quote was our way of doing that."
Though you wouldn't know it, the couple's wedding day faced several hiccups that morning. Originally, the ceremony was meant to take place on a rooftop overlooking the sunset, and the reception was meant to be poolside with a full fireworks display – but an unexpected bout of rain got in the way.
However, not ones to be bested, Emile and AJ moved the party indoors and got another surprise: "Somewhere during all the chaos and devastation of realizing the wedding we'd planned for a year was no longer going to happen, Beyoncé announced the day of our wedding that she was dropping 'Break My Soul,' and we realized it would go LIVE at the exact moment our reception was set to conclude," they shared.
After a quick chat with the DJ, guests finished out the night with a reminder from Queen B to persevere.  
Congrats, Emile and AJ! If you'd like, you can follow Emile on TikTok and Instagram, and AJ on TikTok and Instagram.
You can watch their full wedding video below: