I'm Pernell. I'm a fan of Kevin Hart, and I am not vegan — yes, those two statements are related, since Kevin opened up his brand new plant-based fast food restaurant Hart House in Los Angeles last week.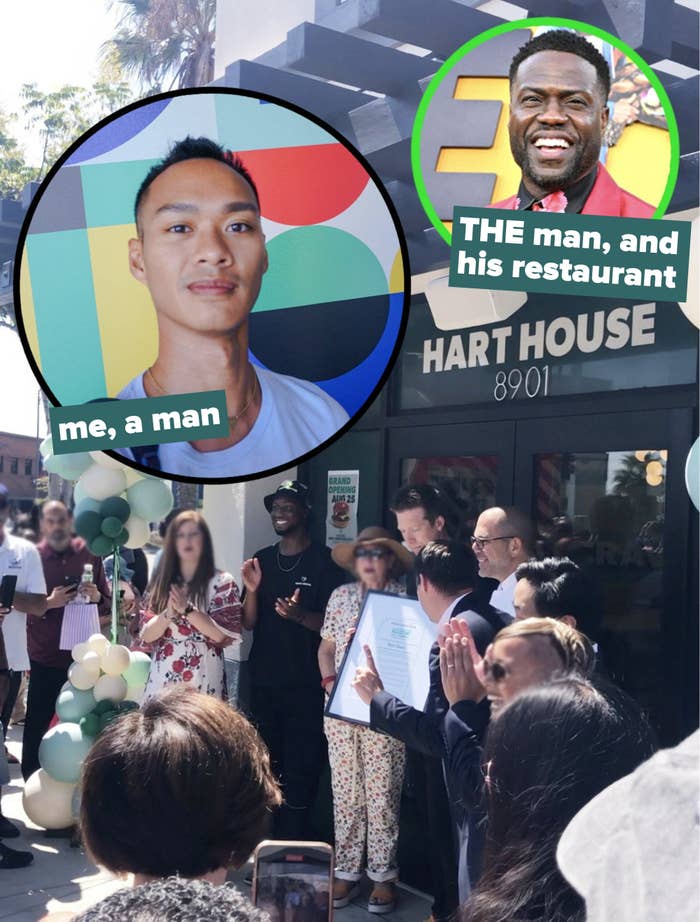 Now, I personally did not have Kevin Hart opening a vegan fast food restaurant on my 2022 bingo card — but after learning more about his reasons, it makes sense. The actor recently told Eater LA that bringing reasonably priced plant-based meals to a wider audience was really important to him. "We wanted a price that doesn't turn customers away," he said. "It was extremely important to us from the beginning to make [affordability] a massive priority."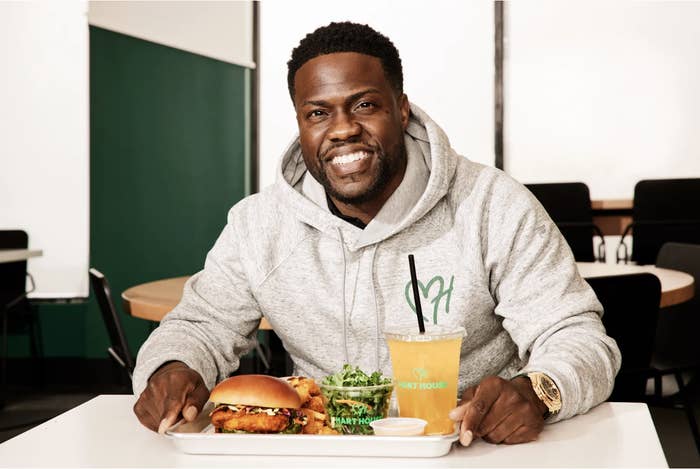 Back to opening day, though. I got there an hour early, and waited in a line with hundreds (and I mean hundreds) of other people. News outlets, locals, cowboys on horses, pretty much every type of person (except Kevin Hart) was standing in that line with me. I waited about three hours in line before finally entering Hart House. This is obviously because it was the opening day. I was expecting it anyway. I mean, Kevin Hart is big time famous.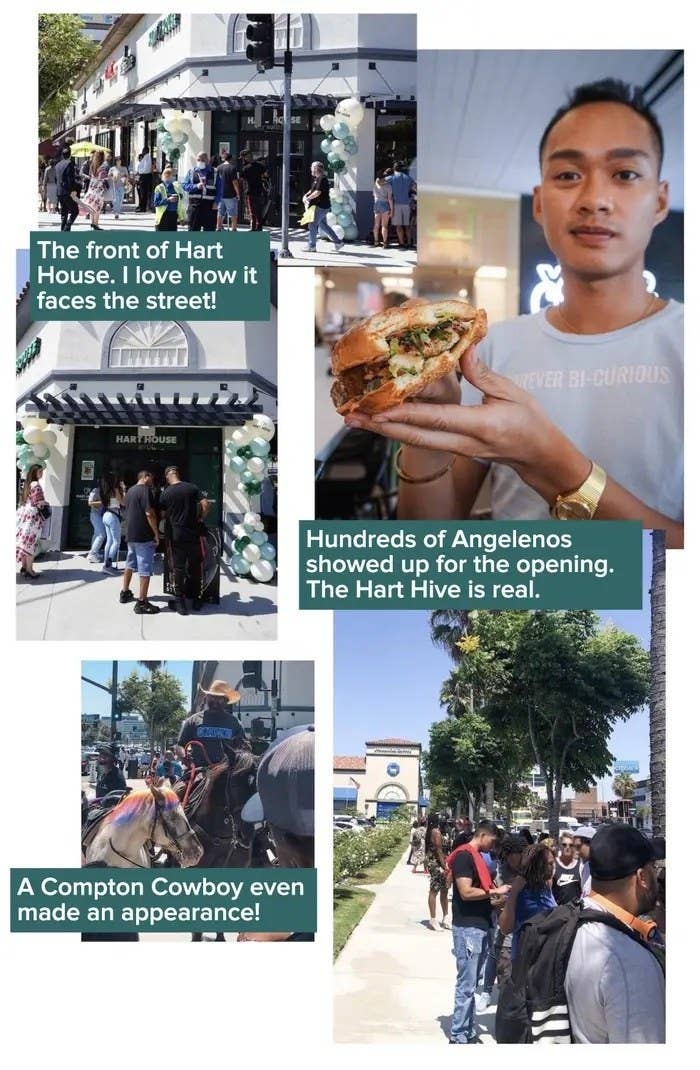 Once I finally got inside, I took in a vibe that's best described as Chik-fil-A meets Shake Shack. Hart House was running quick and efficiently like a fast food joint, with the ambience of a fast casual place like Chipotle — it felt inviting to stay, even with all the people coming through. There was counter style seating, a couple two-seater tables, one round family style table, and a handful of booth-inspired tables up against a colorful wall mural that read "Change You'll Crave."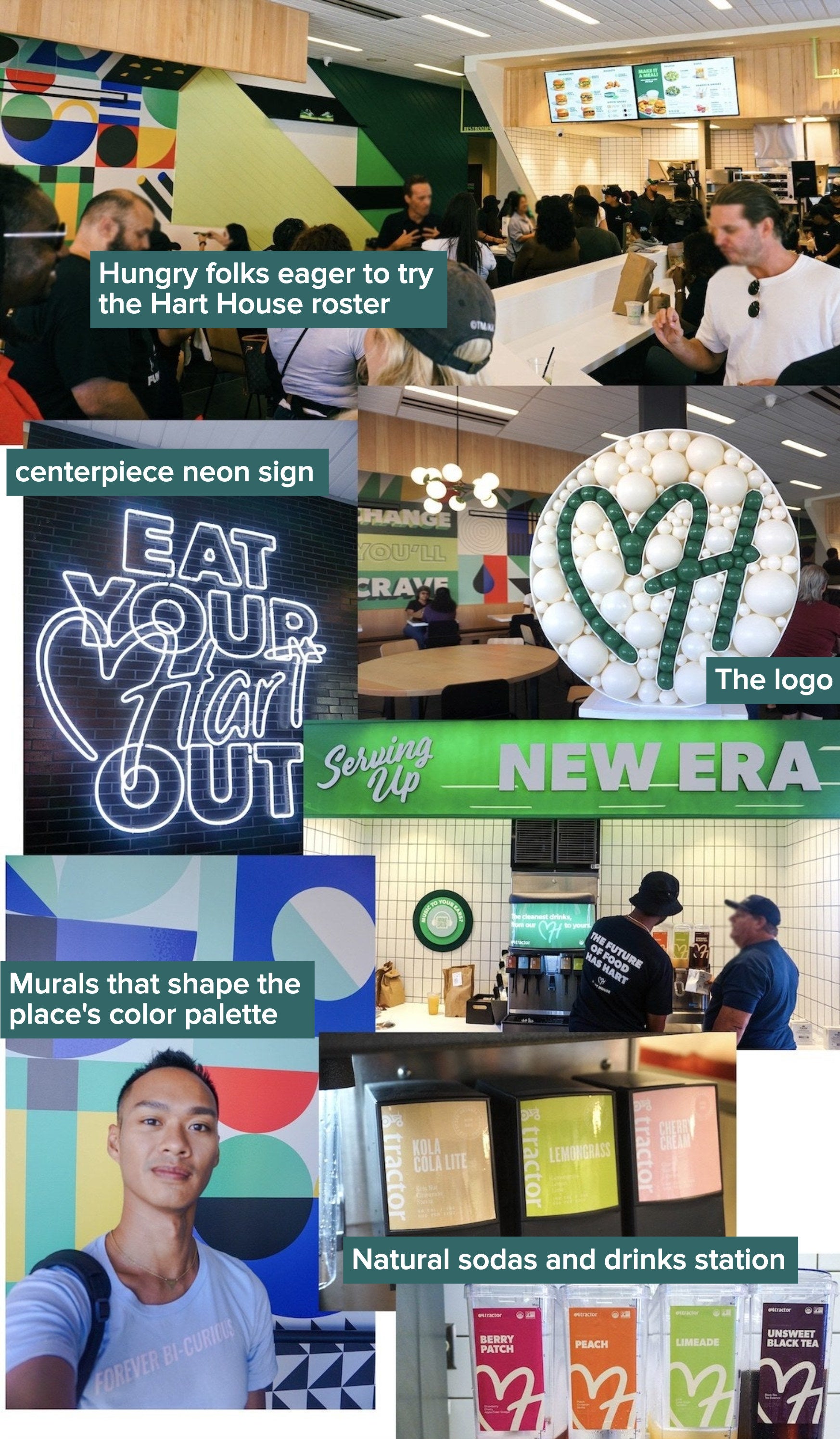 The menu is "100% plant-based and made from scratch." There's also a side menu that clearly lists all allergens and modification suggestions, which is a nice touch. And according to their website and nutritional guide, there is no cholesterol, antibiotics, hormones, artificial colors, preservatives, corn syrup, or trans fat on their menu.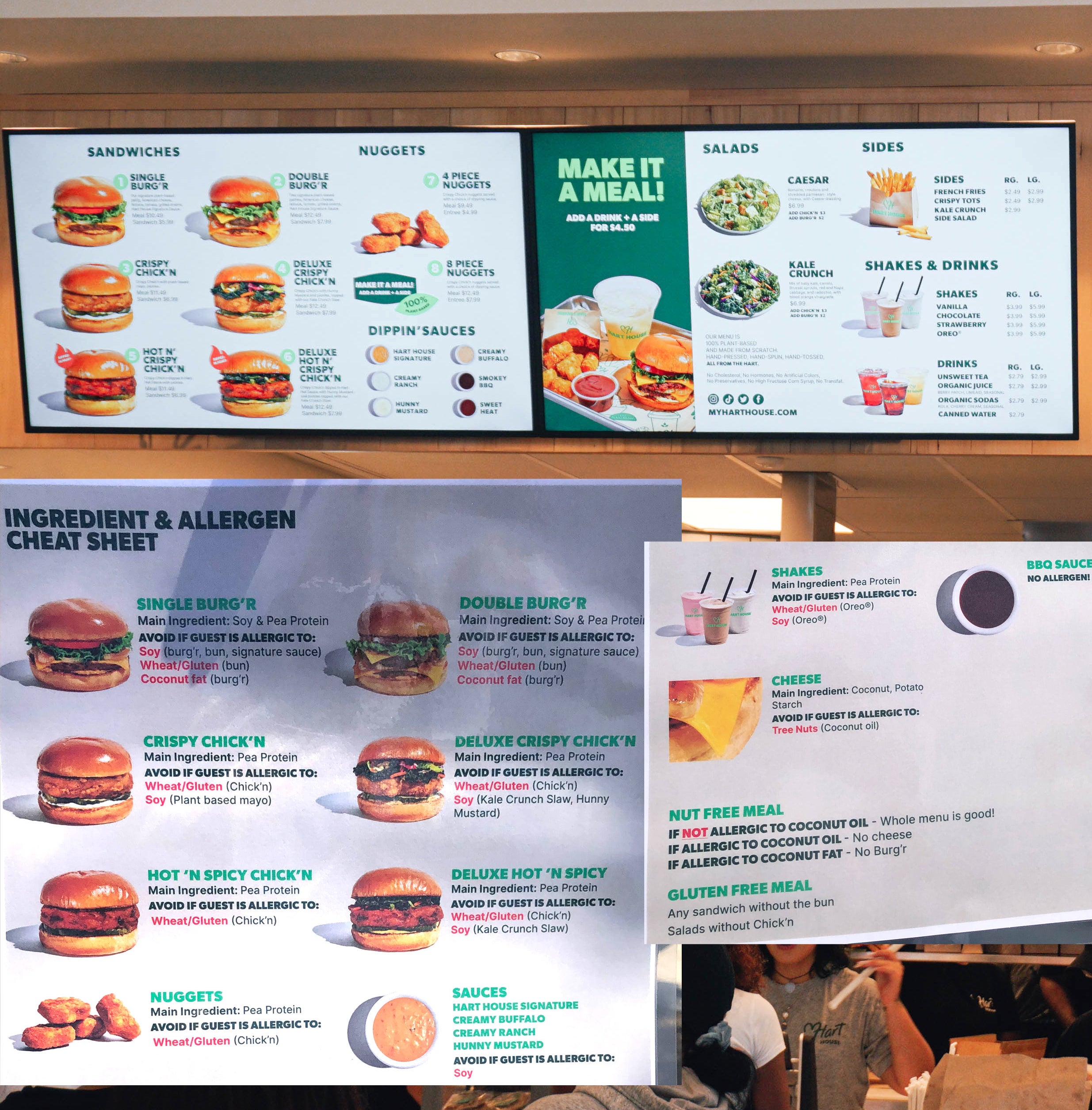 I was eager to get a feel for the entire menu, so I ordered the Single Burg'r (their vegan beef burger), the Crispy Chick'n, and the Spicy Deluxe Crispy Chick'n. The Hart House menu features oat milk shakes, which I was so excited about since I don't handle dairy well. I ended up getting three: Chocolate, strawberry, and Oreo.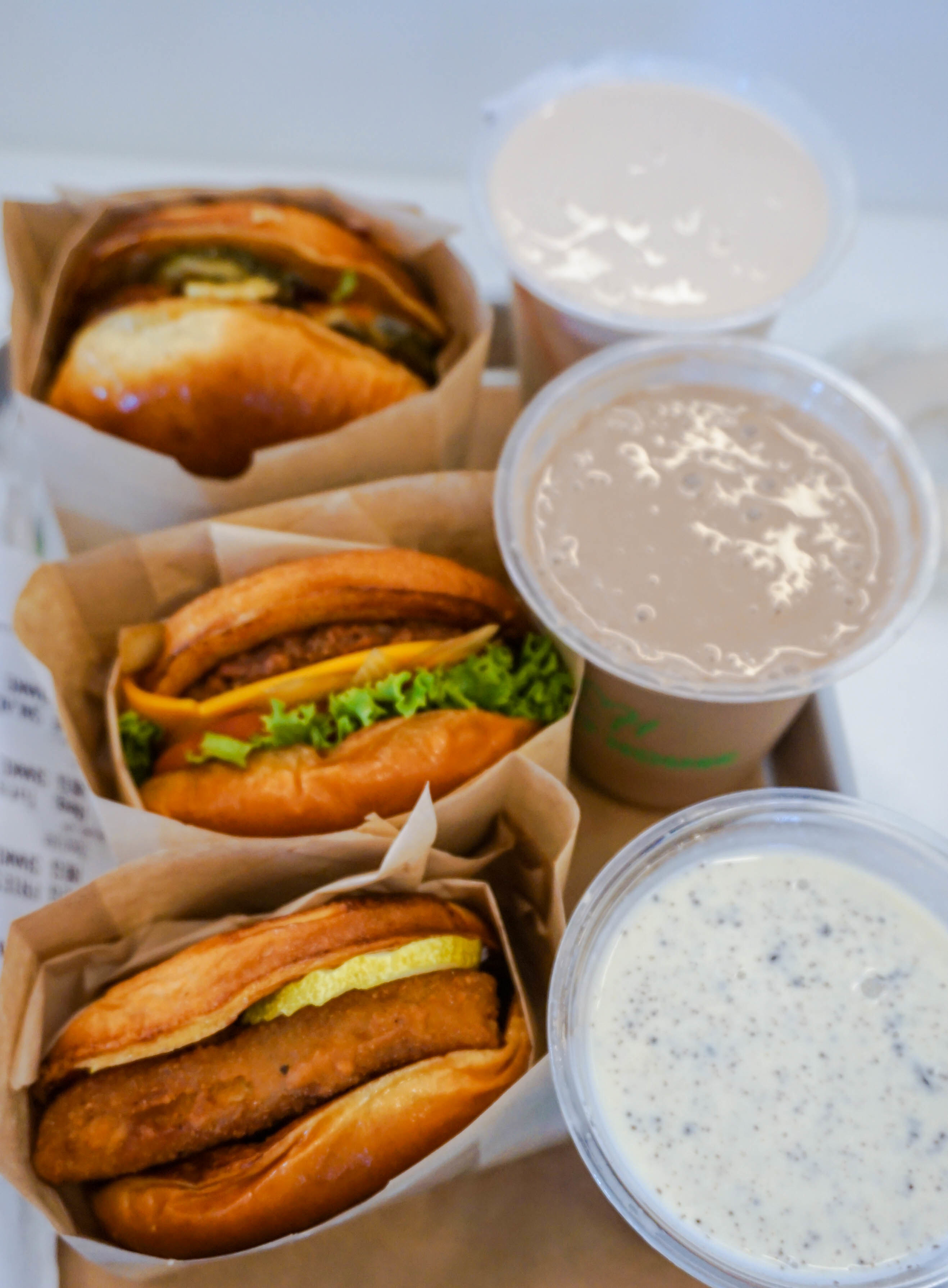 For my sides, I ordered the fries, crispy tots, and their Kale Crunch Side Salad. I also got an assortment of dipping sauces: Hunny Mustard, Creamy Buffalo, Sweet Heat, the Hart House Signature Sauce, and of course ketchup.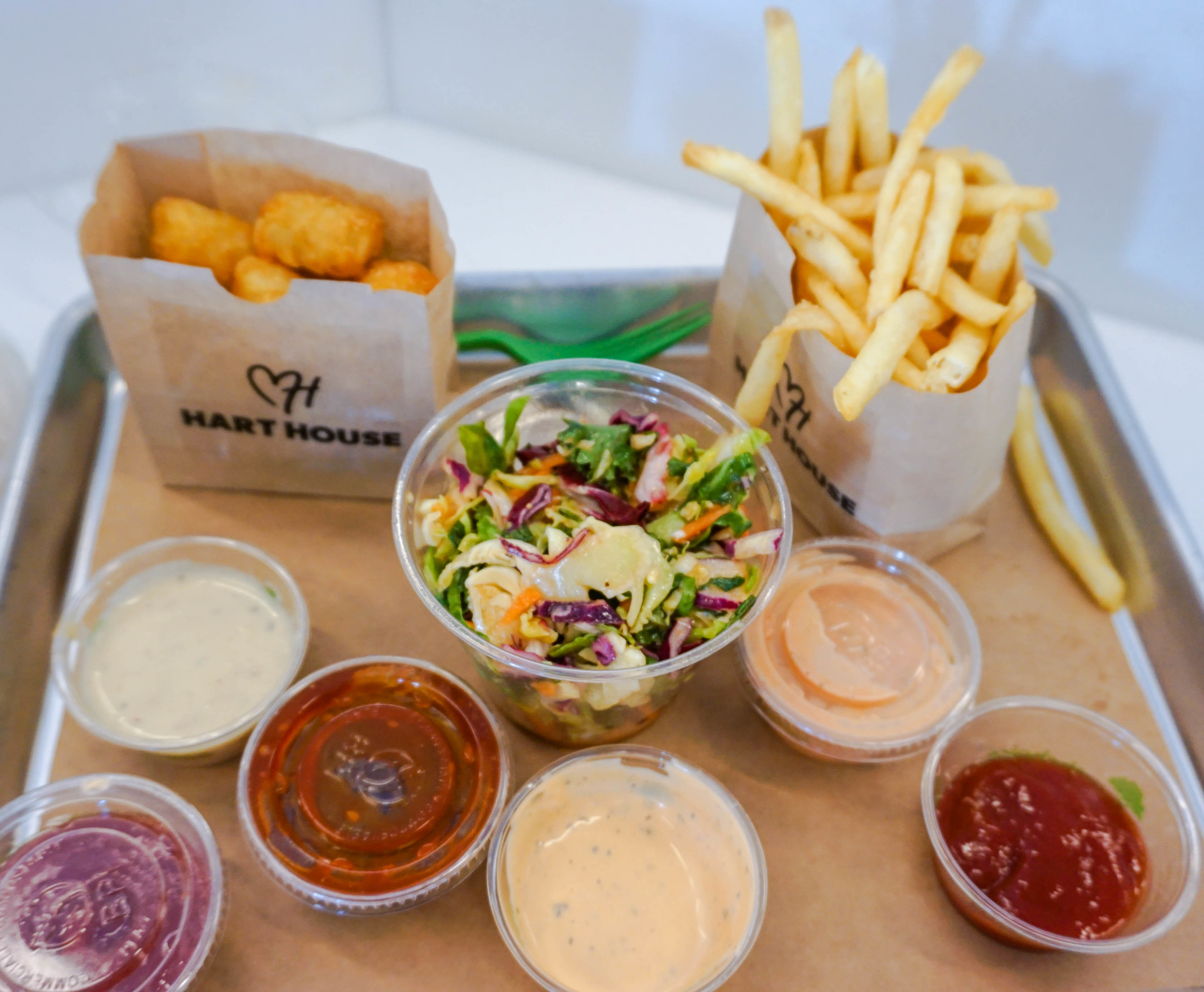 This was essentially three entire meals, and the total came out to just under $46. An entree by itself was about $5–8, and a meal (entree, side, and drink) cost about $10–13 — not bad at all, and absolutely affordable given that Los Angeles is so expensive. Hart House's prices are completely comparable to the prices of similar quick-service restaurants. Also, after I put in my order, it came out so quickly.
I wasn't keeping track of time, though it was absolutely no longer than 10 minutes, if not much shorter.
Alright, onto the food.
🍔 MENU ITEM #1: Single Burg'r — it's their signature plant-based "meat" patty made of soy and pea protein, featuring American "cheese" made from coconut fat and potato starch, lettuce, tomato, onion, and the Hart House Signature Sauce (which reminded me of In-N-Out's Animal Style sauce, or Thousand Island dressing).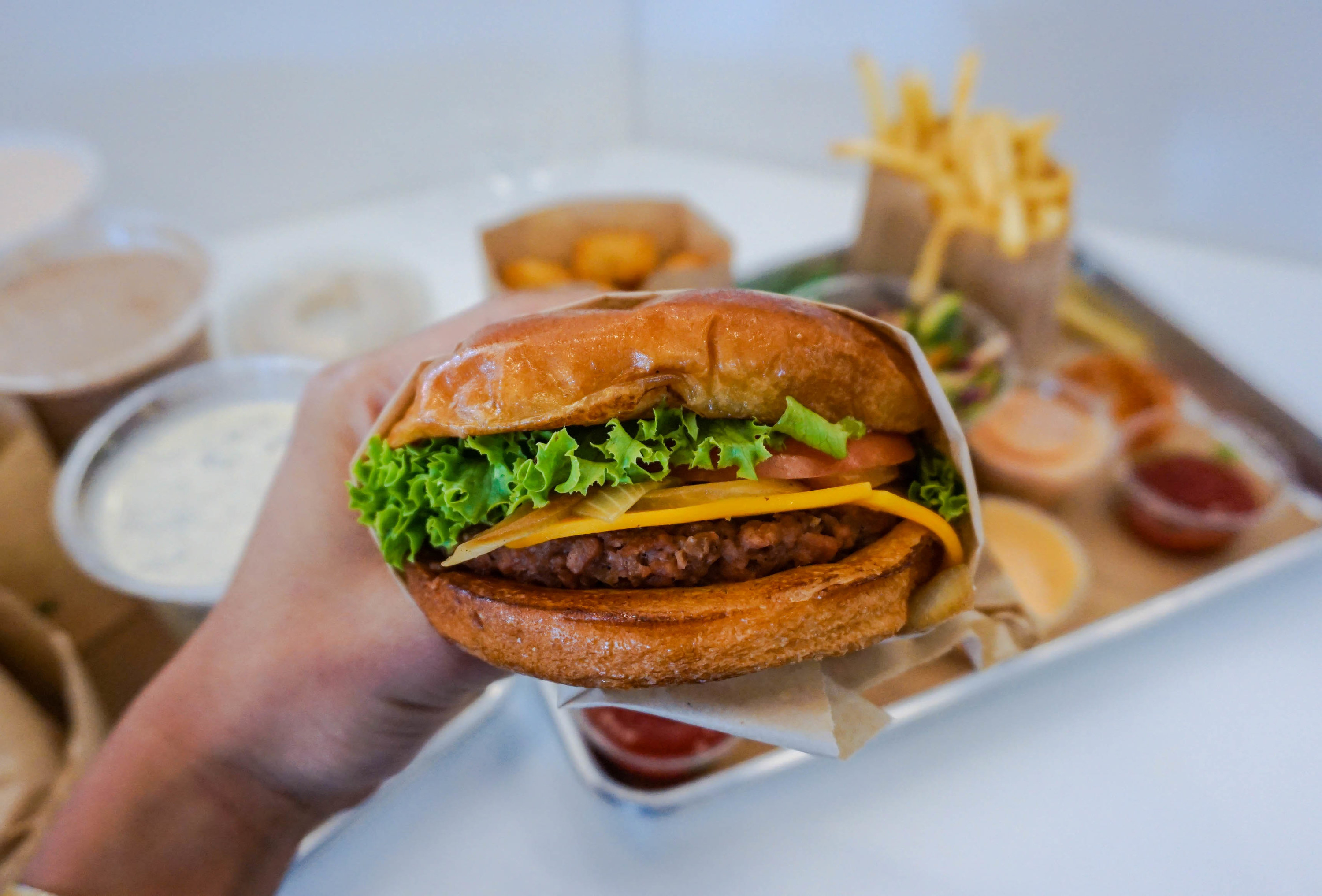 Upon first bite, I immediately knew the Single Burg'r wasn't going to be my favorite thing on the menu. Let's just get it out of the way that the Burg'r patty was…fine. It was thin, chewy, and got the job done, like a burger off the McDonald's dollar menu. What rubbed me the wrong way was the cheese.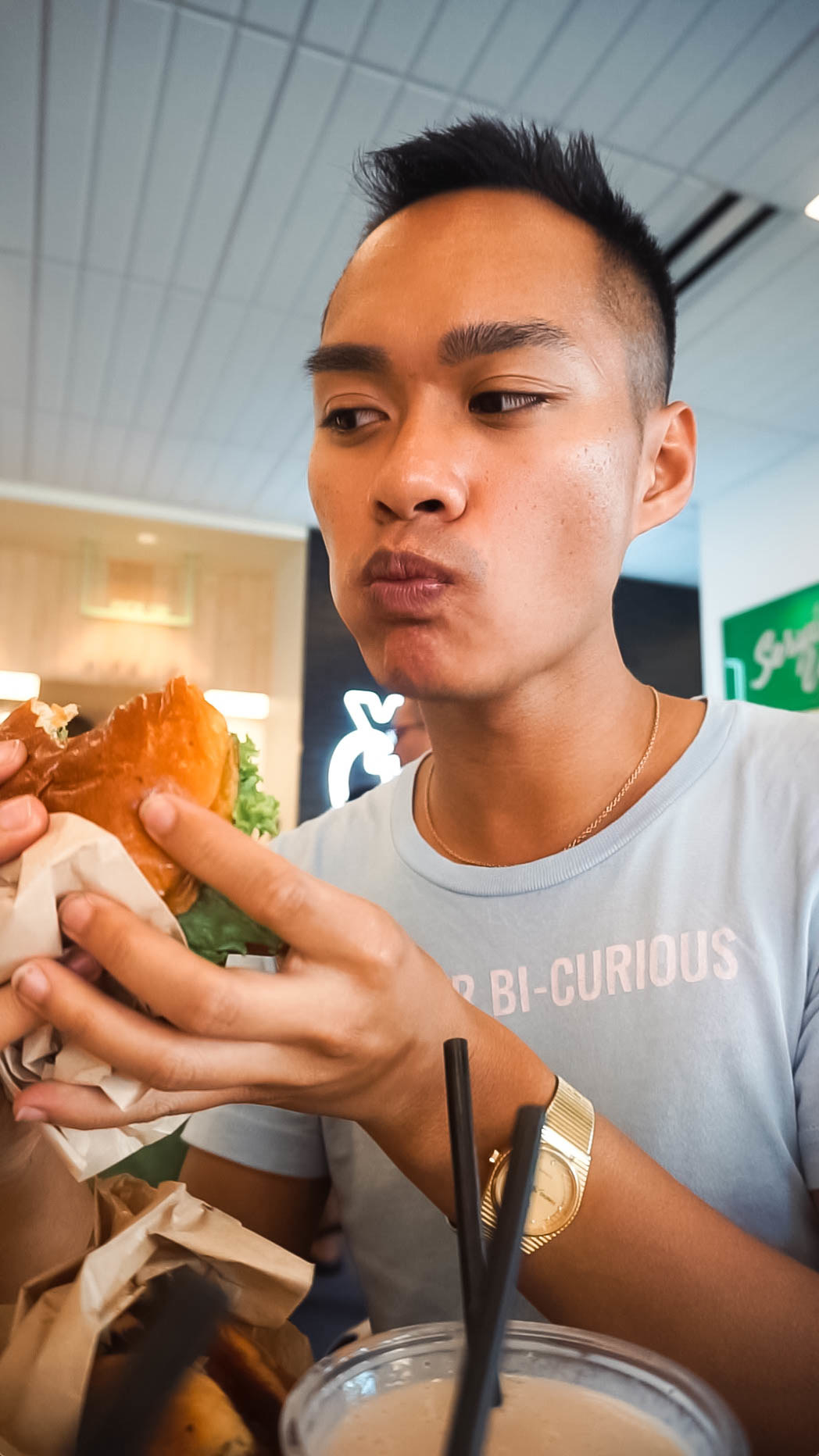 Here's a picture of the inside of the Single Burg'r so you can see that my cheese critique is justified. It was a flimsy piece of rubber. I understand it's not real cheese, but that doesn't change the fact that I didn't like it. Pay no mind to the wilting vegetables — this photo was taken a few hours later in my apartment due to my camera falling into my chocolate shake.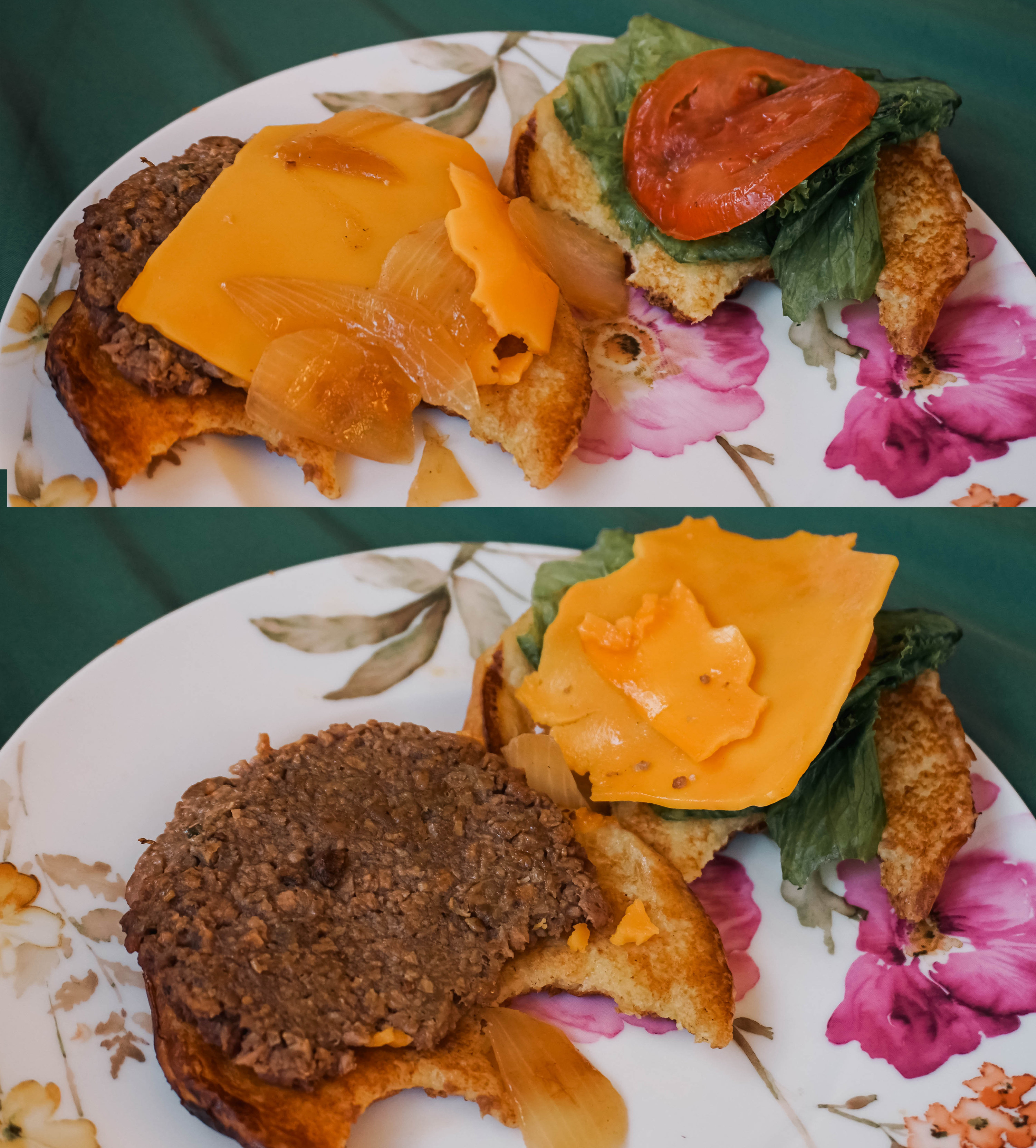 And here's the Single Burg'r again, with its suspicious cheese poking out. This was taken at the restaurant, and as you can see, the burger doesn't physically hold up its beauty so well.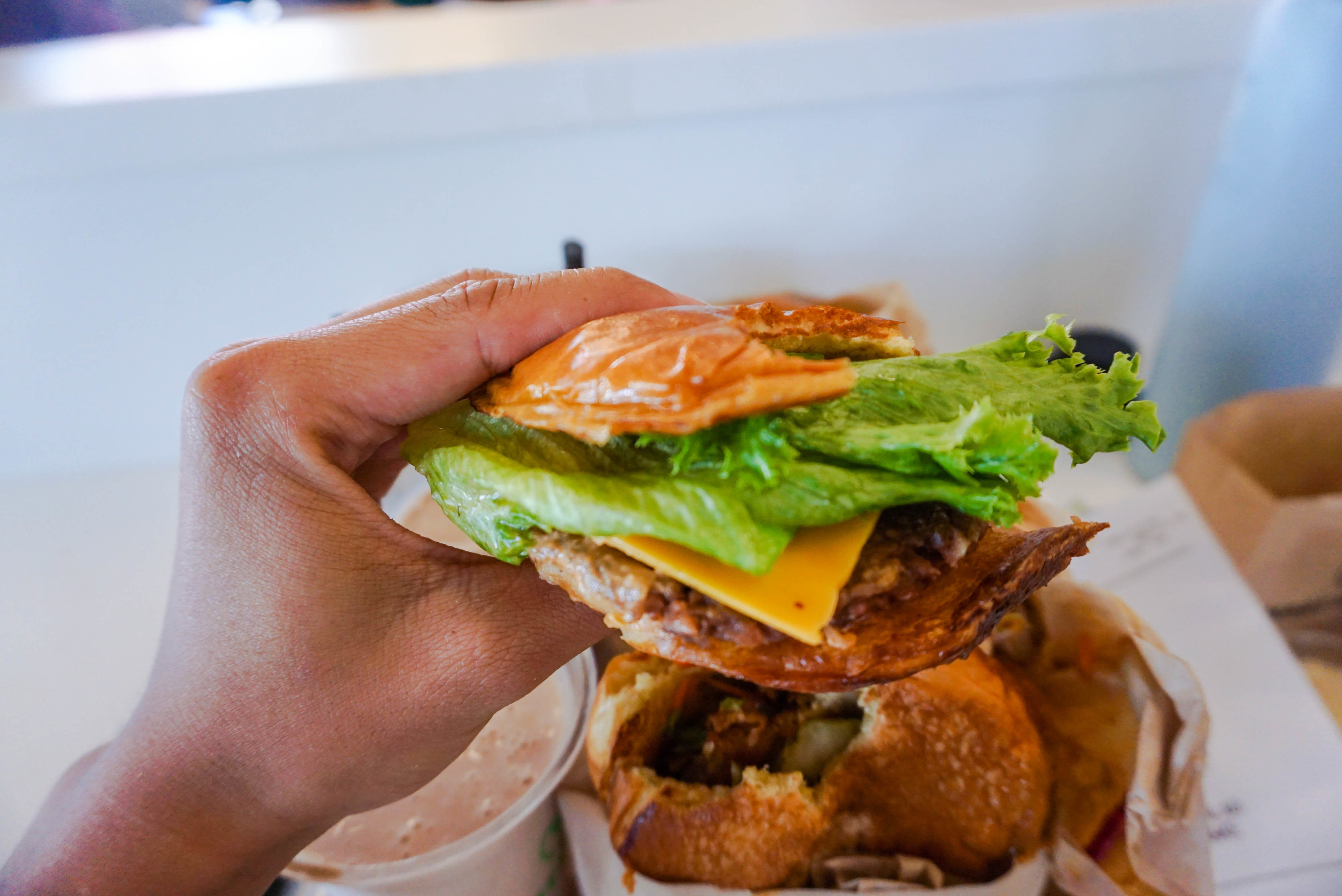 By the way, I'm not at all 'grading' the food by how well it fools me into me thinking its real meat. That's absurd. I just wanted to find out: Could the Hart House menu make me, a non-vegan, crave certain menu items? When it came to this particular Burg'r, the answer was no. So, I was excited to try the next thing.
🍔 MENU ITEM #2: Crispy Chick'n. This is their vegan chicken patty (made from pea protein) caught in a love affair between two warm buns and resting on a layer of their plant-based mayo with fresh sliced pickles.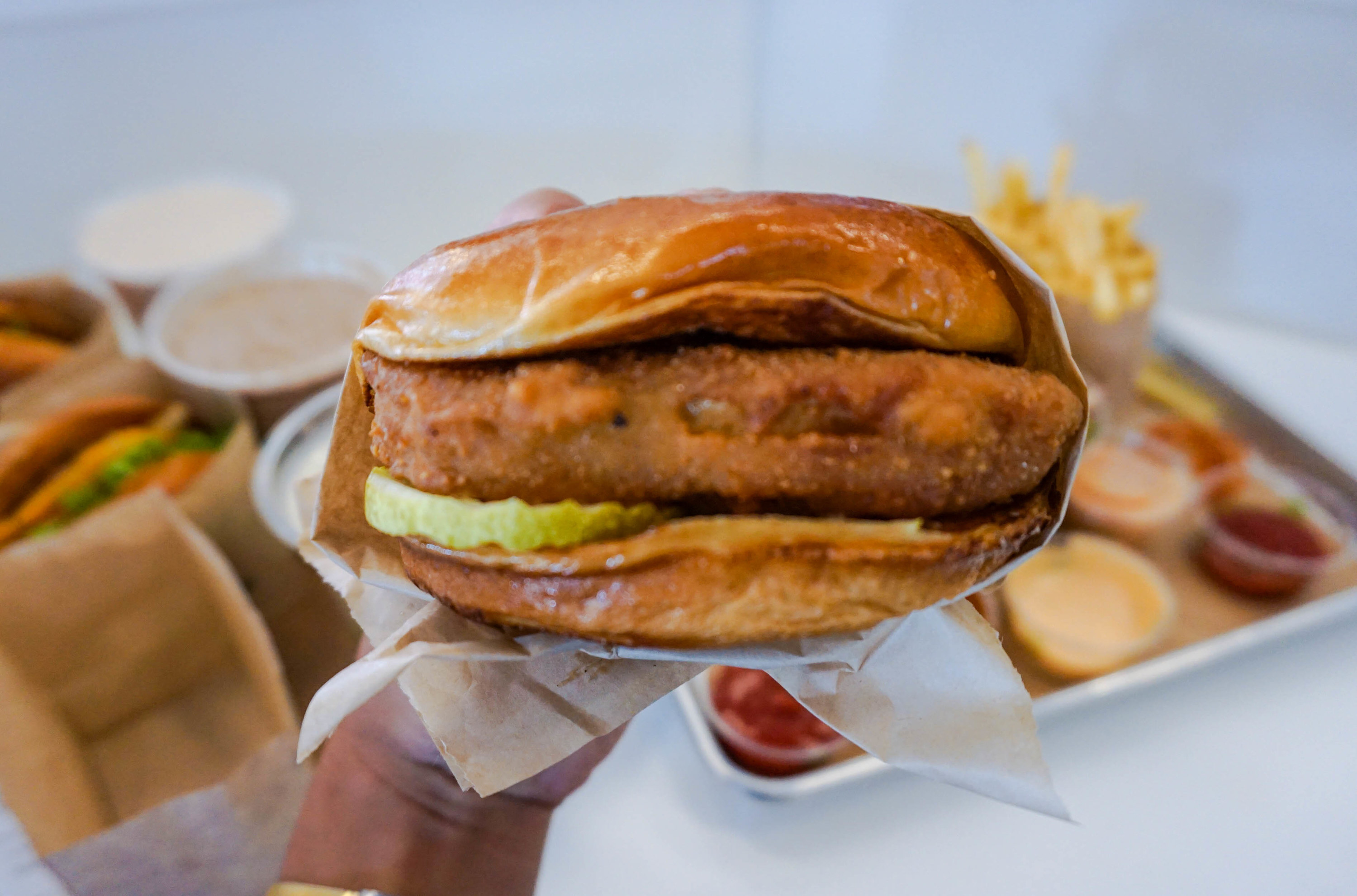 This one…confused me. It tasted fine. It was comparable to chicken. But the breadcrumb-texture and chewy consistency felt like fish, specifically the Fish Filet from McDonald's. So, I wasn't sure if I liked it right away — still a huge improvement from the instant letdown I felt from the Single Burg'r.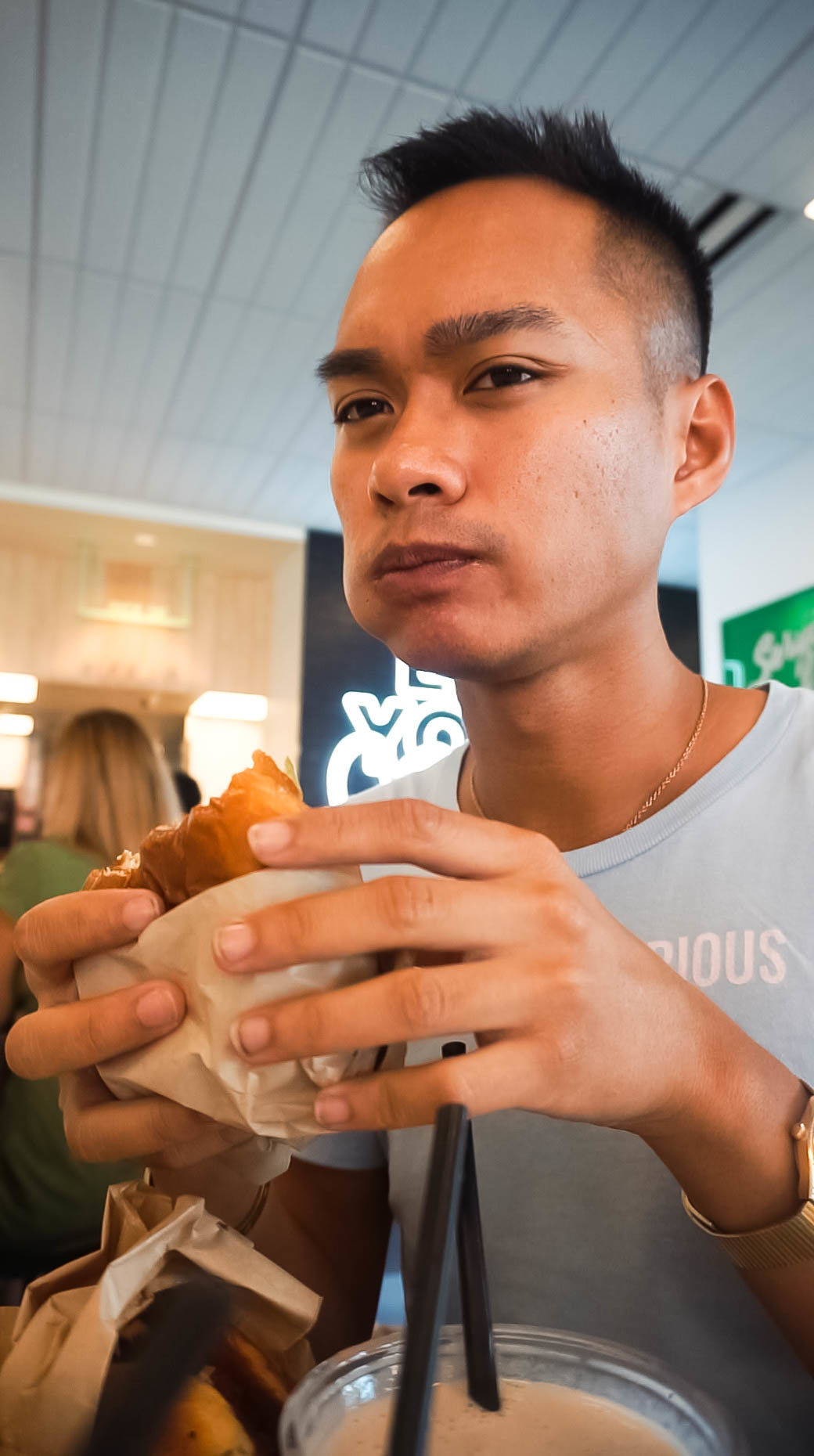 And here's a better picture of the inside of the Crispy Chick'n. It held up much better than the Single Burg'r, appearance and taste wise! Peep the filet-like consistency that I couldn't get over on the right. I finished this for dinner the following day after reheating it in the air fryer, and I came to the consensus that I liked it enough. It's a decently pleasant take on a chicken sandwich, considering its plant-based restraints.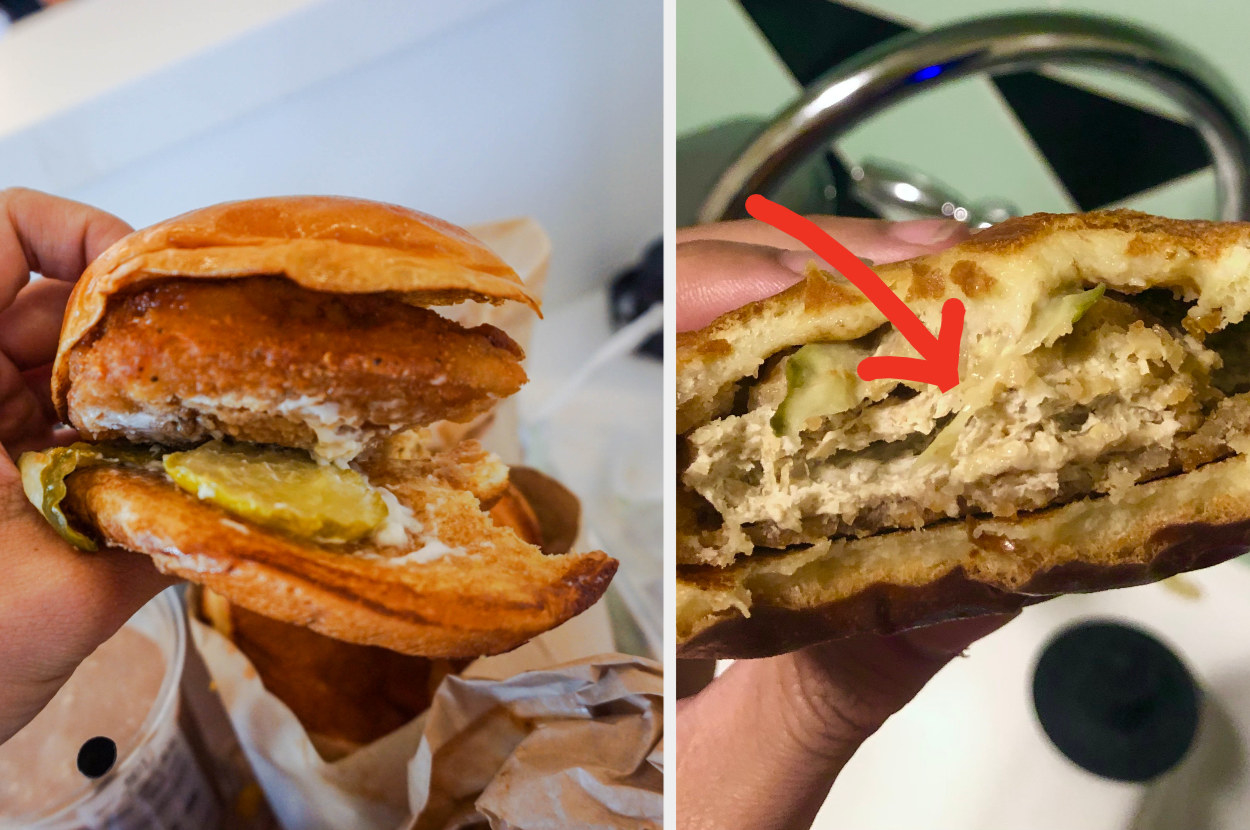 🍔 MENU ITEM #3: Spicy Deluxe Crispy Chick'n, the final of my three entrees. It's the same Crispy Chick'n patty, though it's been simmered in the Hart Hot Sauce for an extra kick. It's also topped with their Kale Crunch slaw, Hunny Mustard sauce, and pickles. This sandwich is the most beautiful thing off the menu — the red-brown patty looked stunning against the colorful veggies and its two plump golden buns.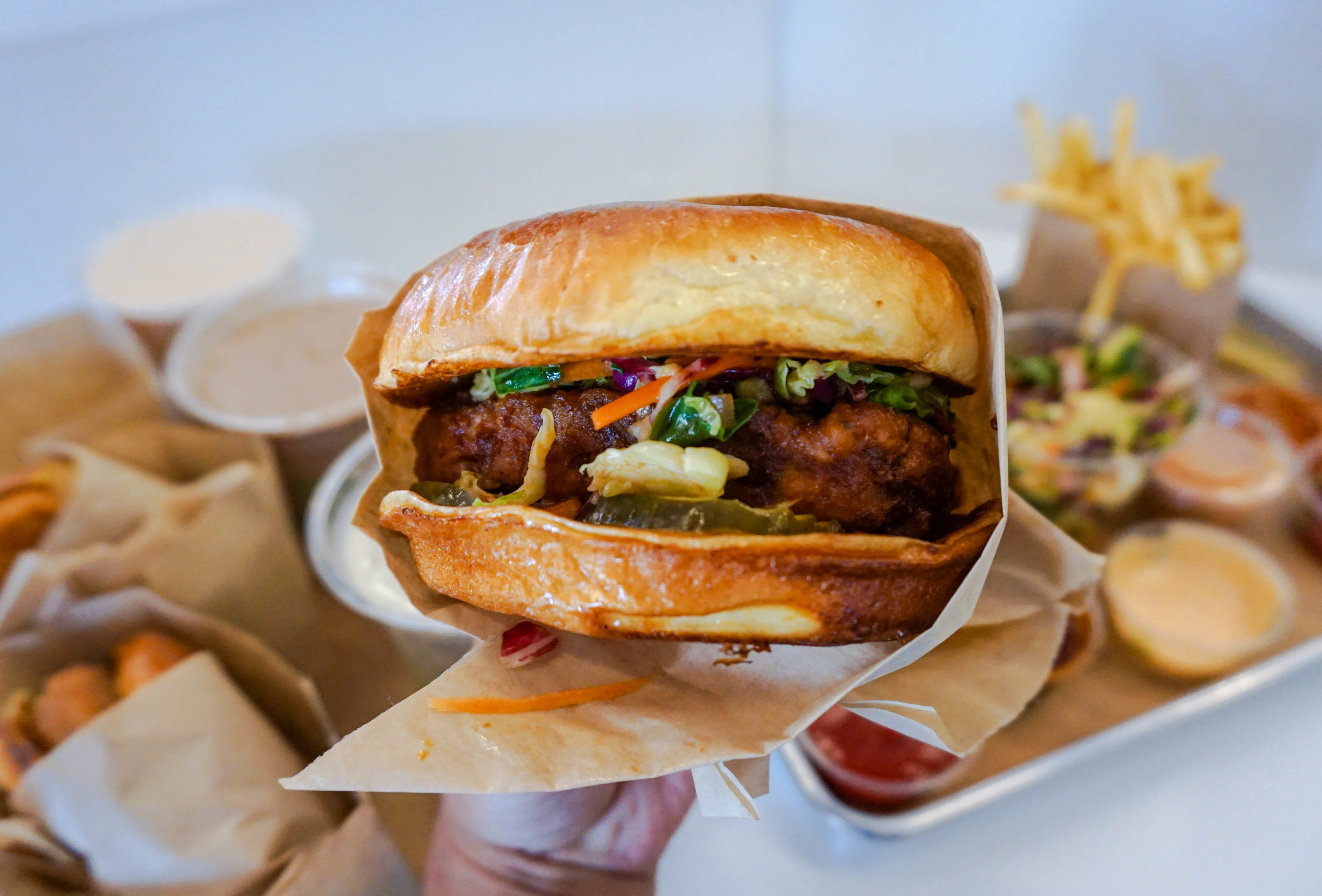 I knew I was going to find at least one thing that was beyond exceptional from the menu, and this sandwich was it. If the Crispy Chick'n was pleasant, the Spicy Deluxe Crispy Chick'n is like the super saiyan version. Kevin's team really knocked it out of the park with the taste, texture, and presentation of this menu item. My face says it all — it was bomb.
The kale salad elevated the Spicy Deluxe Crispy Chick'n to its optimal taste, making it feel healthy (let me have this) and fresh, while also giving the sandwich a satisfying crunch. Moving onto the heat: It's far from overpowering, and felt more like a tingle on my tongue versus actual spiciness or numbness, which is perfect to me. And the addition of Hunny Mustard and pickles was a nice kick to the overall flavor. Honestly, this one's up there with the Popeyes Chicken sandwich, and I genuinely couldn't even decipher that this was plant-based. I'm absolutely craving another.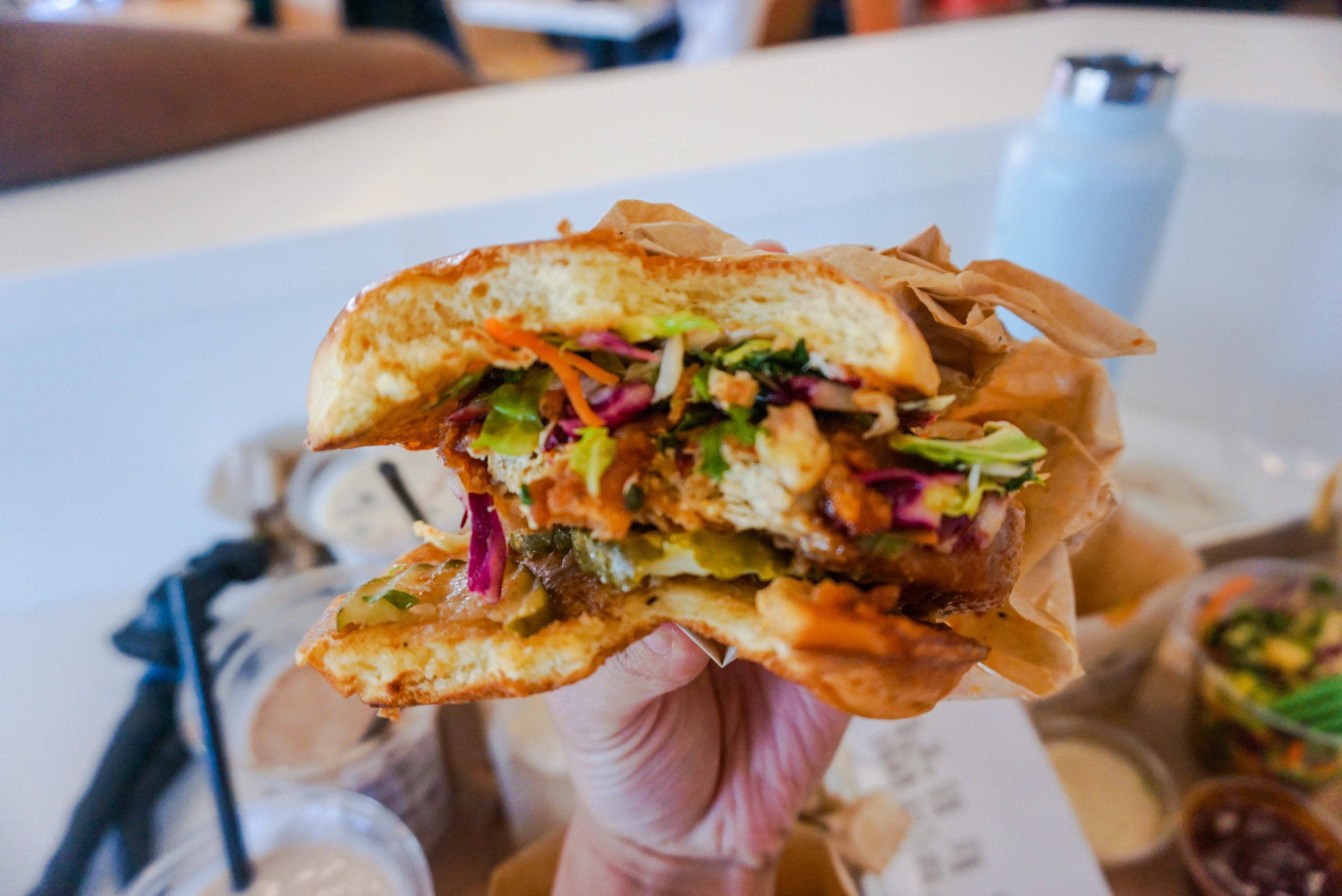 Next, up was the sides. 🥗 MENU ITEM #4: Kale Crunch Salad. I was hyped to try it solo since I loved it as a topping on the vegan chicken sandwich. Its ingredients are impressive: Baby kale, carrots, Brussel sprouts, red and Napa cabbage, and radicchio, dressed with blood orange vinaigrette. And y'all, it's even better on its own. The vinaigrette was light and tangy, while the veggies were crisp, fresh, and bright. It's an incredible salad, and no, I'm not going to shut up about it.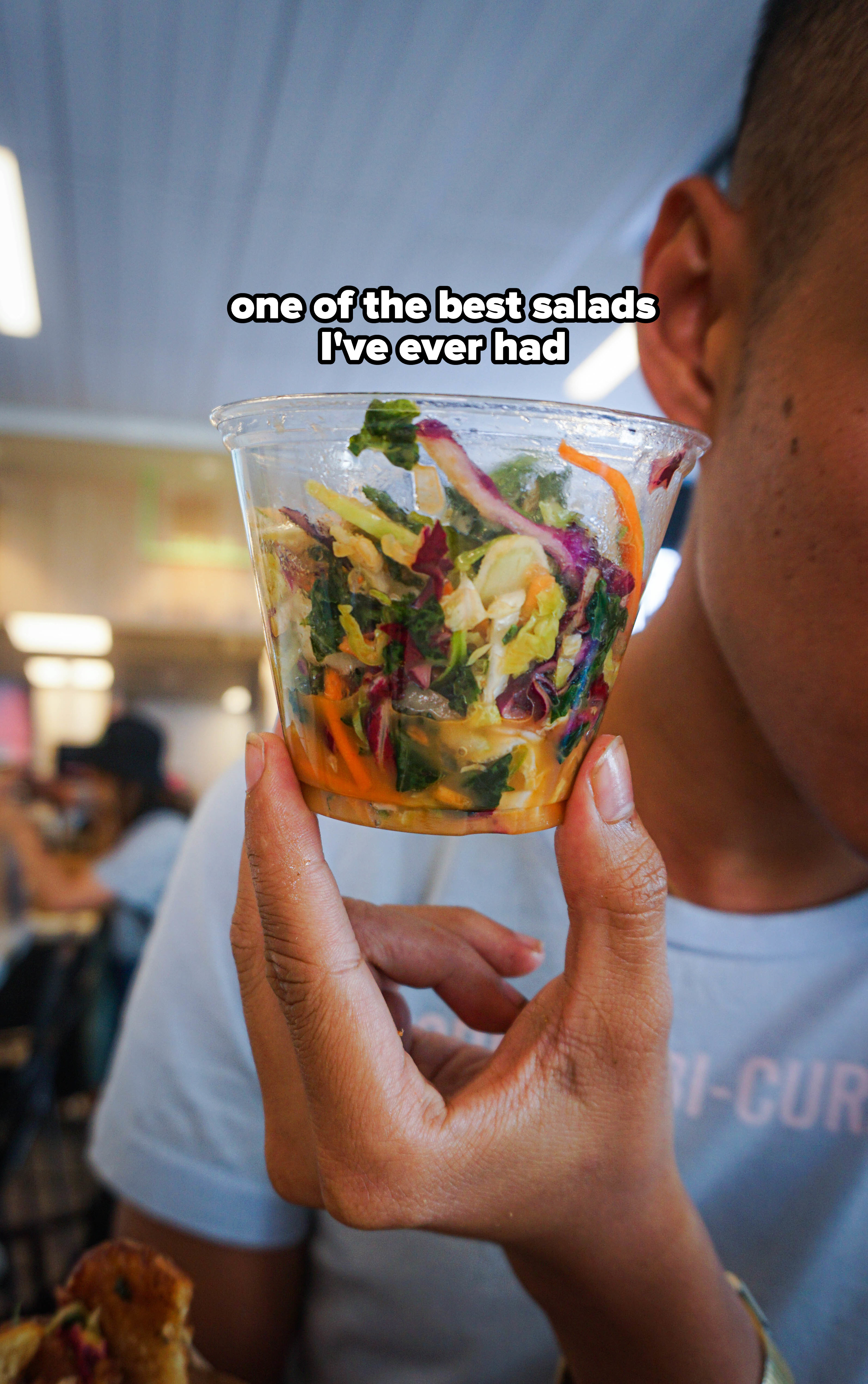 🍟 MENU ITEM #5 and 6: Crispy tots and french fries. The crispy tots were fried, fluffy, and melted in my mouth even when they weren't warm anymore. I was a fan! The fries were okay. I'd rank them alongside Dairy Queen or In-N-Out fries since those also lack a defining crispiness and flavor. They're just there. This doesn't have to be a one-or-the-other situation though — just ask for the "frots," which is just a combination of the two, off the Hart House secret menu.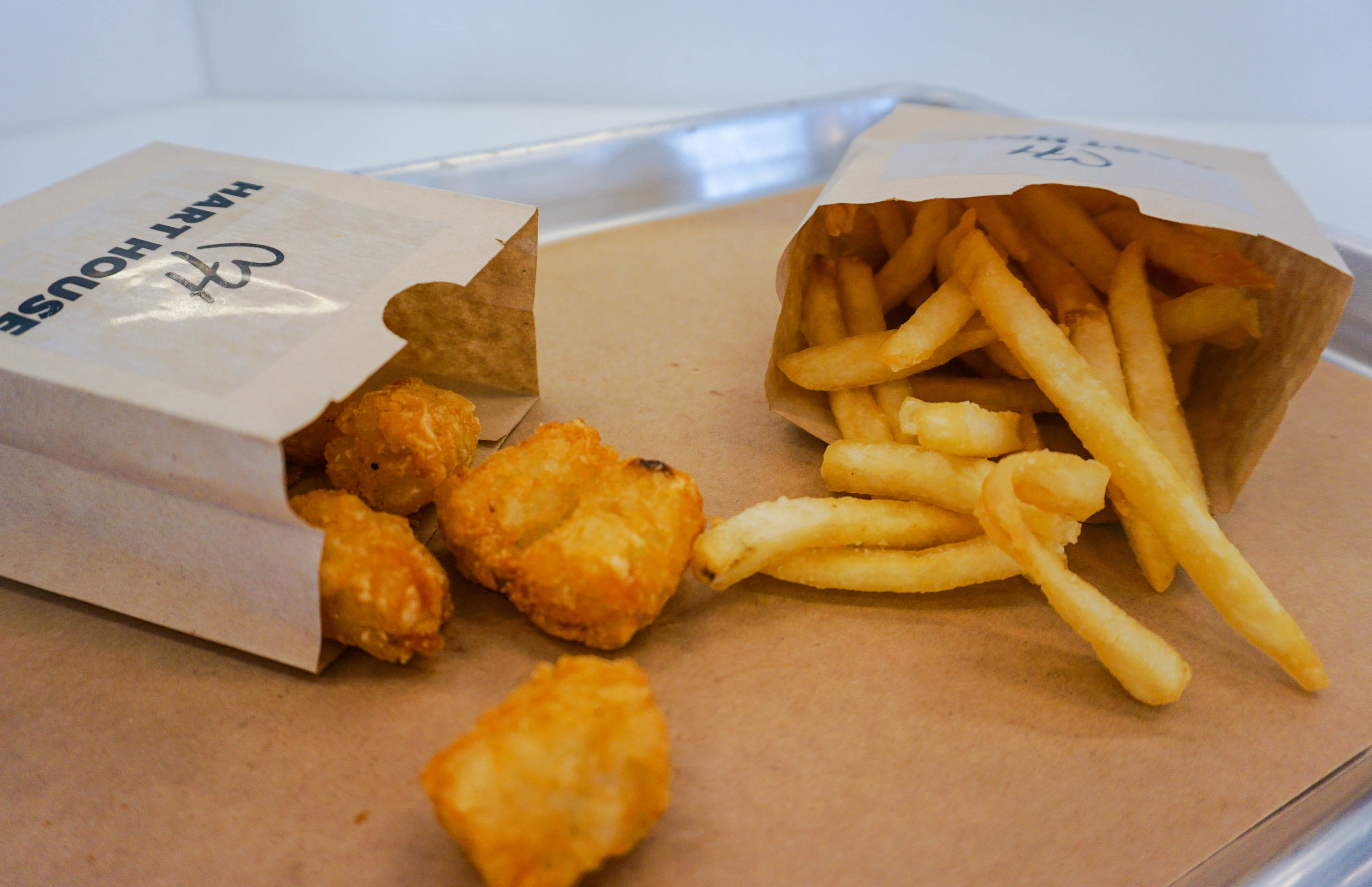 🥫 MENU ITEM 7: Dipping sauces. Hart House offers six different vegan dipping sauces besides the standard ketchup, and I ordered four to try: Signature Sauce, Hunny Mustard, Sweet Heat, and Creamy Buffalo.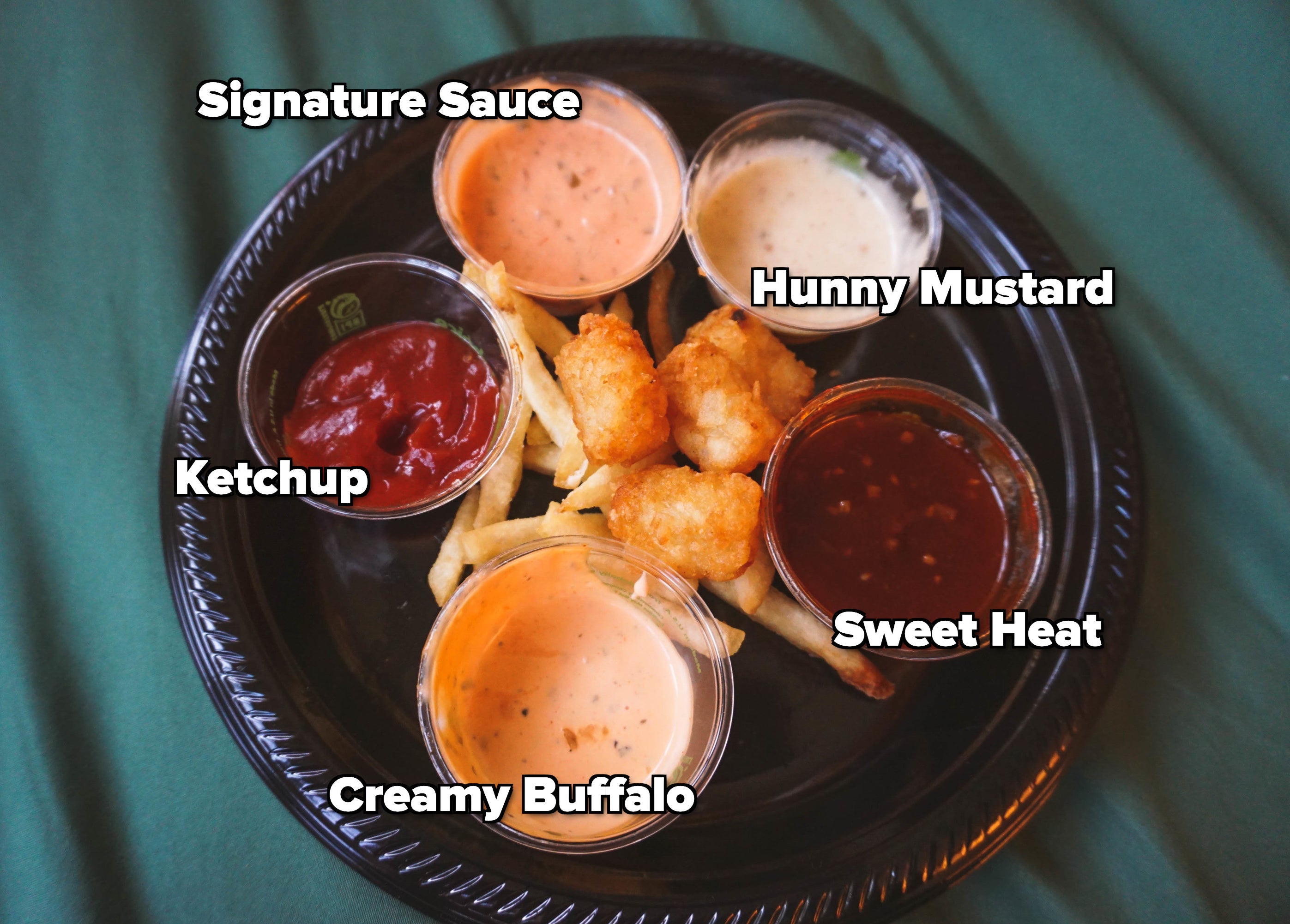 Of the four I ordered, I would say the one I enjoyed the most was the Hunny Mustard — it was sweet with a subtle tanginess to it and tasted just like regular honey mustard. My next favorite: The Signature Sauce, which I'd describe as the In-N-Out Animal Style sauce (or in the realm of Thousand Island dressing) though just a little bit tangier. The Creamy Buffalo sauce was an instant no from me; the cream hit my tongue before the 'buffalo' kick, and I didn't like that. It's the Sweet Heat that came in dead last for me. It was like sweet chili mixed with barbecue sauce, and those do not pair well in my opinion. It also had a pungent scent that reminded me of Trader Joe's Soyaki marinade, or soy sauce and teriyaki. It isn't a dipping sauce I'd prefer for my tots, though it did give a nice sprinkle of heat and flavor to the sandwiches.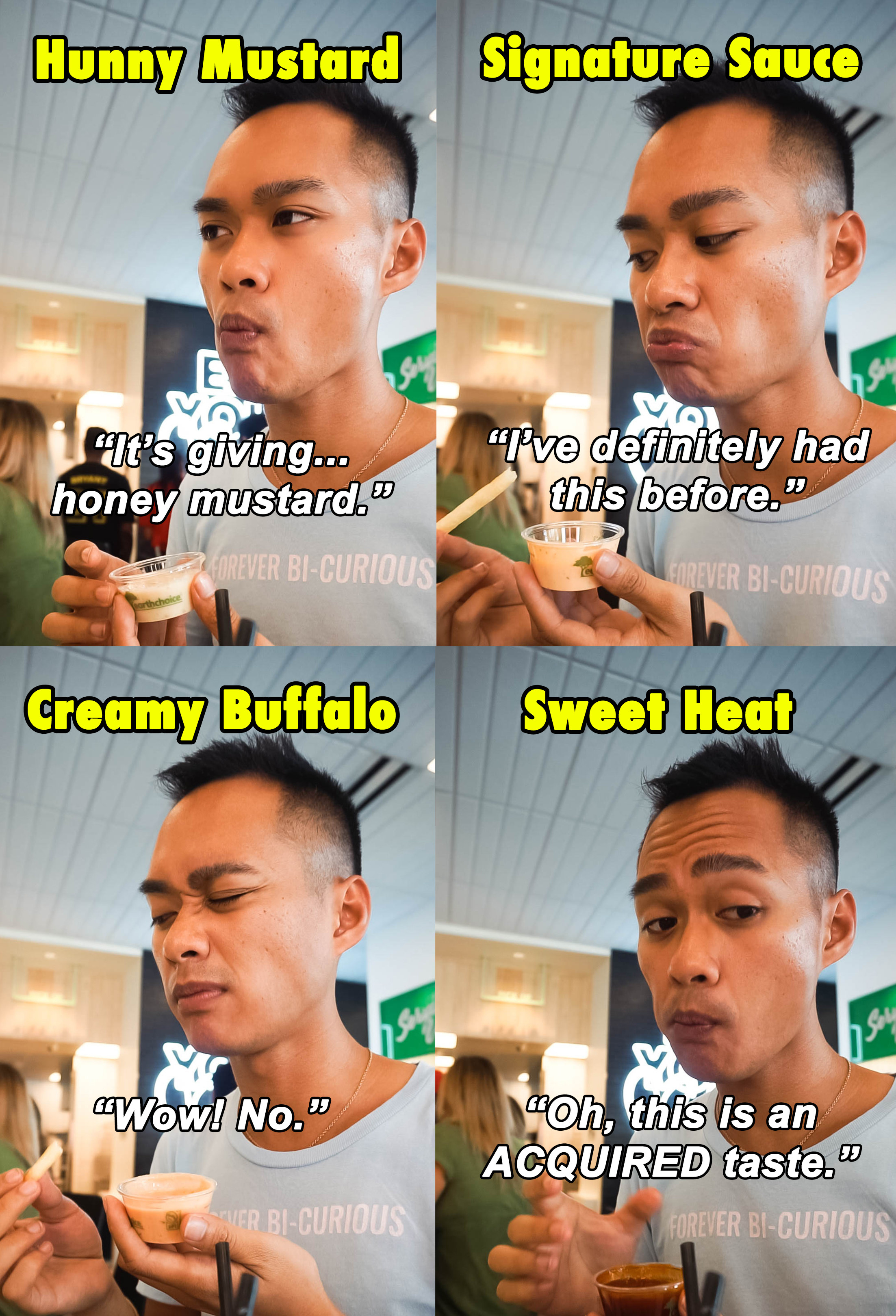 And finally, 🥛 MENU ITEM #8: Oat milk shakes. I tried three of their four flavors: Chocolate, strawberry, and Oreo (the other was vanilla). All of the milkshakes were creamy, thick, and filling — I never missed a milk-based shake during my time with this trio. The chocolate was decadent and reminded me of a chocolate Frosty from Wendy's. The strawberry tasted like the strawberry Nesquik powder that I loved as a kid, though I found it a little too sweet as an adult. And the Oreo shake? I expected it to be my favorite, and that's exactly how it turned out. The Oreo flavor was undeniable, and the little bits of the iconic sandwich cookie pushed the milkshake into must-have territory for me. And the best part of these, once again, is that they're dairy-free!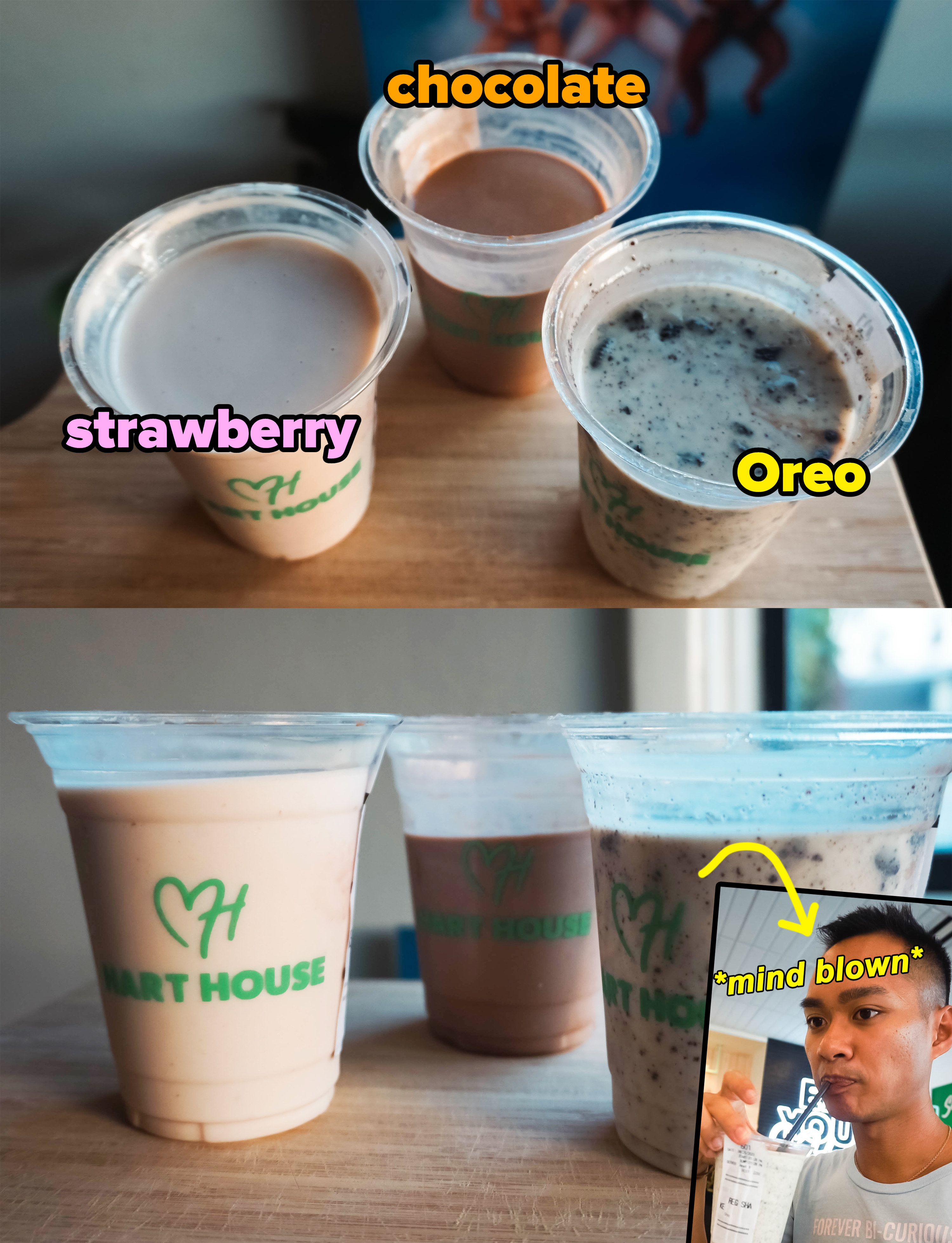 I truly tried half of the menu, and I'm glad I did. I eat meat, though I've been vegan-curious for a while, and Kevin Hart entering the vegan fast-food game was enough to sway me. The Hart House team did a great job of curating quick items that are inviting (and appealing) to folks like me who are not too familiar with plant-based food. I didn't love it all, but that was never the point. The point was to try something new, and find what I did like. Mission accomplished.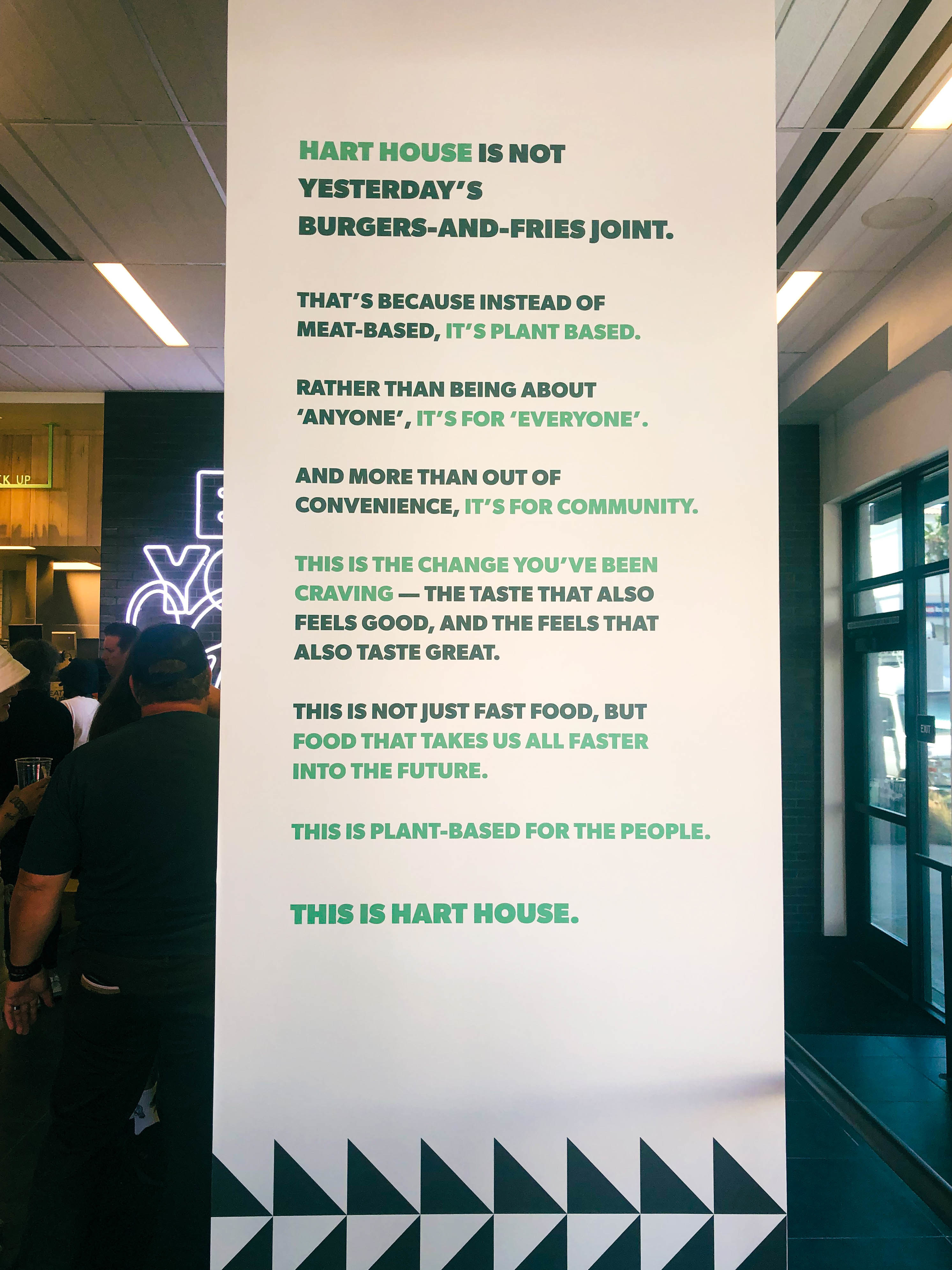 I truly love that Kevin Hart chose Westchester as the neighborhood for his flagship store. It's an unpretentious part of Los Angeles that has limited vegan options. Sure, LA has a stereotype of it swarming with influencers, celebrities, and overpriced food, though that's far from the true DNA of this city. The reality is that LA is a huge county filled with many working-class neighborhoods that are considered food deserts — it's not as easy to buy affordable or good-quality fresh food in every part of this city. Westchester isn't exactly a food desert (Hart House is located right next to a major grocery store, which is great for parking), though it's undeniable that there are strangely few healthy eating options in the area Hart House now occupies.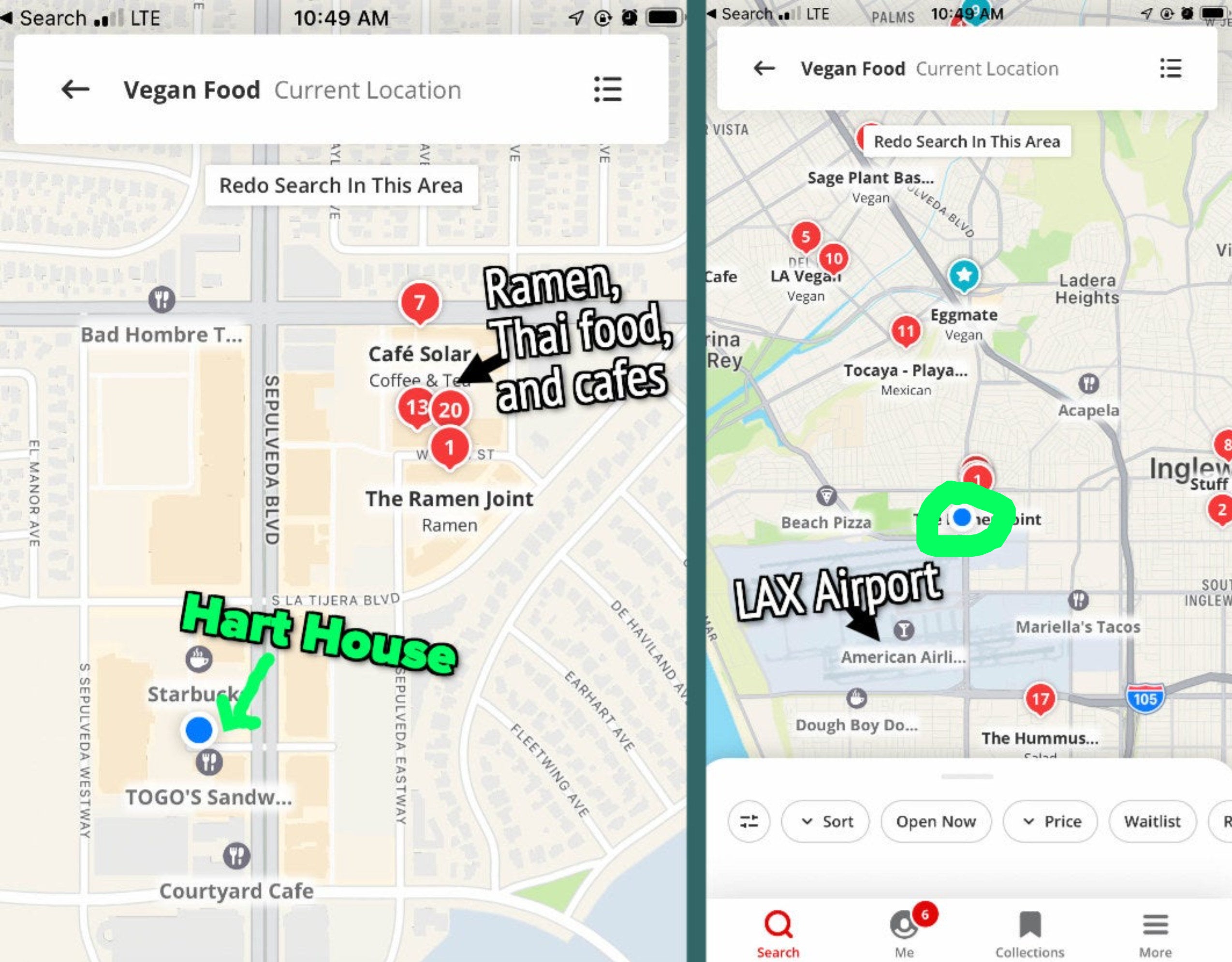 I came to the Hart House opening as a fan, and I left with a more open mind about how delicious (and affordable) vegan fast food can be. Making plant-based food accessible is at the heart of Hart House, and they definitely succeeded, especially in terms of attention and geography. More locations are opening up throughout Los Angeles before the end of this year, including Hollywood and near USC, and there are plans to expand throughout the country next year. Get ready, y'all!
What Hart House menu items stood out to you? What do you think of Kevin Hart venturing into the quick-service restaurant industry? Let me know in the comments!